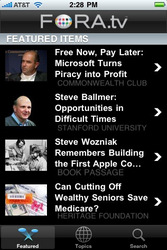 San Francisco, CA (PRWEB) February 15, 2011
FORA.tv, the web's leading destination and distributor of intelligent video programs, today announced a new, free video app for iPhone and iPod touch. The new application provides access to more than 10,000 videos on the people, issues, and ideas changing the world.
"We are delighted to offer Apple iPhone and iTouch users an app that offers anytime, anywhere access to FORA.tv's extensive video library," said FORA.tv CEO Blaise Zerega. "The new app offers a user-friendly, curated viewing experience for provocative and big-idea videos."
FORA.tv's extensive video library includes videos drawn from top conferences, universities and public forums – covering topics ranging from economy and politics, to science and technology to the environment and culture. The new app (Version 1.2), available at iTunes Store or on the iPhone App Store, integrates multiple video feeds from FORA.tv's library into a unique video viewing experience on the iPhone. The improved app features include search and browsing functionality for speakers ranging from Christopher Hitchens to Julian Assange to Adam Savage, and content partners from the WIRED Business Conference to The Aspen Institute to The New York Public Library.
The application includes the following features:

Watch and listen to over 10,000 videos from FORA.tv's library of smart videos
New videos daily to spark discourse and debate around the most important topics
Curated homepage and topic programming on the economy, environment, politics, technology, science and culture
Easy-to-use search and navigation that has made FORA.tv the ultimate video viewing destination
FORA.tv 's new iPhone app is just the latest in a broad range of devices and platforms from the company. Whether following FORA.tv on Twitter (@FORAtv) or Facebook, or watching FORA.tv videos on televisions via Boxee or Flingo or Tivo, FORA.tv strives to connect smart, passionate audiences to the videos they seek – when, where and how they want. For additional information about FORA.tv's iPhone application and other services, visit http://fora.tv.
About FORA.tv:
FORA.tv is the leading site for intelligent video programs on the people, issues, and ideas changing the world. FORA.tv presents free and fee-based viewing of the web's largest collection of videos drawn from live events, lectures, interviews, and debates going on all the time at top universities, public forums, think tanks and conferences. FORA.tv helps hundreds of organizations including the Aspen Institute, New York Public Library, and Wired reach passionate and engaged audiences with video programs on the most interesting issues within politics, business, technology, science, and culture, and the environment. FORA.tv has been named a Top 50 Web Site by TIME, and a Top Education Site by The Telegraph. FORA.tv is funded by a select group of investors led by William R. Hearst III and is based in San Francisco. FORA.tv can be found at http://fora.tv.
# # #