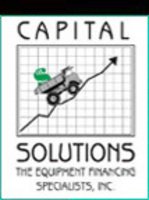 "We know we are going to be around for a while. It's our money!"
Tucson, AZ (PRWEB) February 16, 2011
While other truck financing companies have tightened up or gone out of business, Capital Solutions continues to offer much needed commercial truck financing to the trucking industry. Credit guidelines have remained flexible and liquidity intact allowing the sub-prime lender to aggressively lend money through 2011 and beyond.
This is good news for the trucking industry. As the availability of commercial truck financing continues to decline Capital Solutions maintains it's strong position by providing semi truck financing to the trucker with less than perfect credit. This is important for two reasons:
First, the last two years has seen the average credit score drop for many truckers. With financing companies becoming more conservative, fewer truckers are able to qualify. Second, with Capital Solutions broad credit window more of these truckers are able to qualify under their sub-prime guidelines.
Second, as a self funded lender Capital Solutions is not restricted by traditional bank lines. Nor are they at risk of loosing their lines, thus going out of business like so many of their competitors. As president of Capital Solutions, Jason Dasher remarks "It's nice to control your own destiny. We know we are going to be around for a while. It's our money!"
Dealers stand to benefit from this as well. No one feels the credit crunch more than they do. It is increasingly difficult to sell a truck to a customer with a low credit score. More dealers reach out to Capital Solutions to try to provide funding for their customers.
Due to their marketing in publications like Truck Paper, their heavy online presence, and word of mouth, truckers enjoy contacting Capital Solutions directly for their truck financing needs. Mr. Dasher points out "These customers have usually been decline more than once by more traditional financing companies. They know of our program so they get the deal done."
###