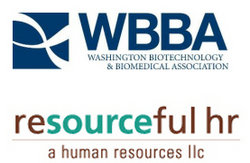 The HR Group connects with colleagues in a variety of important ways and provides an excellent forum to learn up-to-date information from professionals within our industry
Seattle, WA (PRWEB) February 15, 2011
Jennifer Olsen, Principal of Resourceful HR™, LLC, a human resources outsourcing, consulting and staffing company, will serve as the 2011 co-chair of the Washington Biotechnology & Biomedical Association (WBBA) Human Resources (HR) Group. The group, which is made up of HR professionals in the life sciences community, meets on a quarterly basis and is designed to address HR challenges that WBBA members experience during the daily course of doing business and to serve as a catalyst for creating new ideas that they can implement at their companies. Topics that will be explored and shared this year will include employee engagement and retention, corporate training and adult learning techniques, and how best to communicate HR's value to the business.
"The HR Group connects with colleagues in a variety of important ways and provides an excellent forum to learn up-to-date information from professionals within our industry," said Stacie D. Byars, Director, Marketing and Membership, Washington Biotechnology and Biomedical Association. "Jennifer brings tremendous expertise and leadership to this group and we look forward to working together to achieve this mission."
The WBBA HR Group brings together HR professionals in the life sciences community to learn, inform and support their members when it comes to HR issues they are experiencing. As co-chair for the group, Jennifer Olsen, Principal of Resourceful HR, will help select the panel and/or speakers, coordinate accommodations and assist with program construction.
"I'm really excited to be a part of the WBBA and to especially co-chair their HR Group. Members wear a lot of hats when it comes to their jobs in the life sciences community and the HR Group is a great opportunity to get support and best practice ideas from knowledgeable, experienced HR professionals," said Jennifer Olsen, Principal of Resourceful HR.
About the WBBA
The Washington Biotechnology & Biomedical Association is an not-for-profit trade association serving more than 400 life sciences companies, universities, academic institutions and others working together to achieve our mission of translating Innovation to Realization, from breakthrough discoveries to better health solutions. Members enjoy access to many great events throughout the year, purchasing discounts, government advocacy, timely industry news, as well as the opportunity to tap into the heart of the life sciences community in Washington. For more information, visit WBBA online at http://www.washbio.org.
About Resourceful HR™
Resourceful HR™ is a human resources outsourcing, consulting and staffing company, providing strategic support to serve your HR needs. Our experienced team has expertise in a broad range of specialties including recruitment, employee performance, policy development and implementation, leadership development and employee relations.
About Jennifer Olsen, Principal, Resourceful HR
Jennifer founded Resourceful HR in 2007 with over a decade of human resource experience. She is a proactive manager, team builder and strategic planner with the ability to attract and secure key individuals in building strong and lasting relationships. She has been quoted nationally in Forbes and holds a Senior Professional in Human Resources (SPHR) certification, a Certified Compensation Professional (CCP) certification and is a graduate of the University of Washington, where she earned her MBA and BA degrees.
# # #