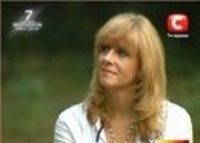 "I enjoyed my time in the Ukraine and I was extremely honored to represent the United States, I believe I showed how a real Psychic Medium works and I have received an outpouring of supportive emails, letters and new clients from around the world."
Ocean View, NJ (PRWEB) February 16, 2011
Jennifer Wallens, an American Psychic Medium was selected as one of the final four (4) Psychics on the Seventh Season of the popular TV show "Battle of the Psychics-War of the Worlds" on the STB Channel in the Ukraine. Jennifer was the only American chosen for the final 12 Psychics for this season and appeared in all 13 episodes. She was also honored by the judges and awarded "Best Psychic of the Week" in Episode Five. The Finale aired around the world January 11, 2011. The winner was K. Alekporov from Azerbajan. The Seventh season Battle was called " War of the Worlds " this time, as Ukraine became an arena for the battle of the strongest psychics and mediums of different countries and continents. The judges of the seventh "Battle of the Psychics" were: the world-famous magician and King of bent spoons Uri Geller, a popular Russian TV host Dana Borisova and Paul Kostitsyn, who continued to lead the project.
Jennifer spent nearly six months in the Ukraine from July 2010 thru January 6, 2011, filming 38 tough psychic challenges during the competition with psychics from the UK, Azerbajan, Russia, Ukraine, Nigeria, Dagestan, and Transylvania, Romania. All of the TV episodes are available online here in the US on the STB TV Channel Website
Jennifer Wallens is a popular International Psychic Medium, Teacher, Lecturer, Paranormal Investigator, Psychic Artist and Animal Communicator, and presently lives in Ocean View, NJ. She currently travels and teaches workshops, holds mediumship gallery events and gives private readings around the world. Jennifer is a former Environmental Scientist, has a BA from Rollins College and is the mother of three grown children.
###