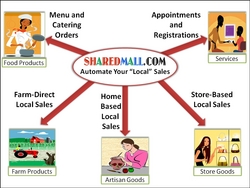 This is a unique opportunity for individuals across the nation to own their schedule, pursue their passion, and make an extra income. - Jatin Patro (SharedMall visionary)
Beaverton, OR (PRWEB) February 15, 2011
Common People Services, LLC has launched a beta release of SharedMall.com for free use by individuals across the nation to automate their local sales via a unique schedule-sensitive shopping cart system.
Online shopping has gained popularity and matured over the past several years; however, online automation of home-based local sales is still in its infancy. The online automated solutions available for local sales are either proprietary solutions, open only to certain businesses, or are relatively static listing sites, lacking much of the needed automation. Common people Services, LLC is breaking the mold by offering the much needed automation to entire local communities of individuals and businesses in the beta release of SharedMall.com.
SharedMall is a fully automated online e-commerce marketplace that enables buying and selling of goods and services locally, in a schedule, time, and location sensitive manner. Current online solutions for local sales rely on a separate email or phone conversations between the buyer and seller to schedule pickup or delivery. Buyers are usually unsure if a listed product is still available and sellers receive inquiries about availability of a product even after it is sold. SharedMall resolves such inventory and scheduling overhead through automation, and offers a more efficient and robust way to buy and sell locally online.
Sellers and buyers can tailor SharedMall to suit their own schedule and location. The unique schedule-sensitive shopping cart in SharedMall opens up several new opportunities. Garage sales, craft fairs, charity sales can now be held online all year long. Tutors, plumbers, caterers, and all other service providers can be found more easily via a map-based search and can automate their service appointments on SharedMall. Individuals skilled in music, arts and craft, baking, and other such skills can now pursue their passion and sell outside of local market hours, directly from home, on their own schedule.
SharedMall visionary Jatin Patro says, "This is a unique opportunity for individuals across the nation to own their schedule, pursue their passion, and make an extra income." Common People Services, LLC is offering SharedMall as a vehicle of hope. Common People Services, LLC hopes to motivate and empower individuals with unique new opportunities by offering free membership.
About Common People Services, LLC:
Common People Services, LLC is an Oregon based company, founded in 2010. The company is founded on goodness and strives to earn a solid reputation as the leader in providing innovative and affordable solutions that matter to the common people across the nation.
# # #