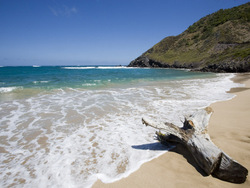 Earning this distinction from two top travel entities is a clear indication that our strategy for the development of St. Kitts' destination experience is working
(PRWeb UK) February 16, 2011
The Caribbean paradise of St. Kitts has managed to be named on two different Top Ten Travel Destination lists for 2011 already, showing that this island nation will be a popular choice for sun-seeking tourists in the coming months. It is also becoming a hot holiday home destination, with buyers from around the world taking interest in real estate in St. Kitts.
On December 10, 2010, British Airways announced its official annual list of Top 10 Destinations. St. Kitts was given plenty of praise and the honour of fourth place. AOL Travel, one of the highest ranking travel websites, released its Top Ten list on January 10th, and St. Kitts & Nevis earned the rank of number 4 as well. Other locations featured on the lists included Marrakech, San Diego and New York. British Airways launched weekly service to St. Kitts from London (Gatwick) in January 2009, which was subsequently increased to twice weekly in March 2010.
"Earning this distinction from two top travel entities is a clear indication that our strategy for the development of St. Kitts' destination experience is working," said Minister of Tourism & International Transport Senator Ricky Skerritt. The island has strived in recent years to further the development of tourist and real estate in St. Kitts, while still preserving the nature areas of the island and the rich history. The continued increase in tourism and investment in real estate in St. Kitts will serve to support and strengthen the economy of the country.
The article on AOL Travel described the sumptuous rainforests, fascinating history, beach bars, scuba diving, hiking, and quality accommodation found on St. Kitts. AOL Travel is a top website with content and advertising reaching more than 90 percent of all the web's travellers. Total readership is estimated at more than 2 million Unique Monthly Viewers. Now that the treasures of St. Kitts are no longer a secret; there has been an increase in the number of overseas investors taking interest in real estate in St. Kitts.
Investors are taking interest because of the great prices that can be found on the newly developed real estate in St. Kitts. The island is a very popular place to live and it has all of the amenities and entertainment that holiday home buyers seek, such as golf courses, shopping, tennis, gourmet restaurants and casinos. St. Kitts also boasts beautiful beaches and a tropical climate, with an abundance of wild rainforests and natural parks that are being carefully preserved so that they can be enjoyed for years to come. Other attractions include the scenic sugar plantation railway, the Caribelle Batik factory, and Brimstone Hill Fortress National Park, which is the only man-made UNESCO World Heritage Site in the Eastern Caribbean.
Some foreign investors are also drawn to the Economic Citizenship programmes that are available for those who purchase real estate in St. Kitts. The privileges of this status include visa-free travel, tax breaks, and the right to work and reside in St. Kitts. Anyone can be eligible for this programme, provided that they invest in an approved piece of real estate in St. Kitts and they undergo the application process and appropriate screenings.
Having already been ranked on two of the most popular Top Ten Travel Destination lists for 2011, it is certain that St. Kitts will see a great deal of tourism and property sales over this coming year. This increase in tourism spending and purchases of real estate in St. Kitts will be very beneficial for the island's economy and will improve the health of the nation. With so much natural beauty to be discovered, it's no surprise everyone is falling in love with St. Kitts.
Author Bio
Are you interested in real estate in St. Kitts? Check out the gorgeous view from Oceans Edge.
###