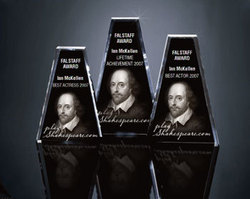 San Francisco, CA (PRWEB) February 17, 2011
PlayShakespeare.com is pleased to announce the nominees and winners for the annual Falstaff Awards for 2010. With PlayShakespeare.com's international reach, reviewers worldwide have come together to honor the best in Shakespeare for the year of 2010. The Falstaff Awards recognize extraordinary achievement in the areas of Best Play, Best Director, Best Performance by a Male or Female Actor, among other performance and technical categories.
This year's winners include Al Pacino for his performance in the Public Theater's production of The Merchant of Venice on Broadway and Ping Ching for his direction of Throne of Blood, a stage adaptation of Akira Kurosawa's Japanese film adaptation of Macbeth. Throne of Blood premiered at the Oregon Shakespeare Festival in 2010 and also garnered awards for Best Scenic Design, Best Lighting Design, and Best Adaptation.
The Falstaff Awards honor the Blu-ray release of Hamlet as the Best Film/DVD of 2009. Starring David Tenant of Dr. Who fame and Patrick Stewart, the film was a fresh adaptation of the popular play and it received an excellent transfer to the high-definition format.
Also honored were the Henry IV, Part 1 and Henry VIII productions of Shakespeare's Globe Theatre. The London-based theatre also produced and released three top-notch Blu-ray editions of successful plays, making them them the first to dive into the high-definition format with Shakespeare.
Of note is the Lear Award for Lifetime Achievement was awarded to Dakin Matthews in recognition of his lifelong contribution to Shakespeare performance. Matthews, currently artistic director of the Antaeus Company, has been a director, actor and performer for many years, even having adapted Shakespeare for Broadway (including the conflated version of Henry IV, Parts 1 & 2 starring Kevin Kline). Last year, he performed the title role in King Lear in the highly-praised Antaeus Company production.
The complete list of nominees and winners can be found at:
http://www.playshakespeare.com/falstaff
###