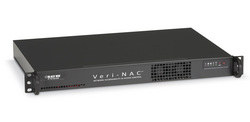 Lawrence, PA (PRWEB) February 16, 2011
Black Box Corporation (NASDAQ:BBOX), an industry-leading provider of voice communications, data infrastructure, and network solutions, announced today that it is debuting its new network optimization solution, as well as an enhanced feature set added to its award-winning network access control (NAC) appliance, at the RSA Conference held in the Moscone Center in San Francisco on February 14-18, 2011.
Veri-NAC™, declared by SC Magazine to be one of the 20 most influential security products of the last two decades, is a family of network access control (NAC) appliances from Black Box that ensures that only authorized devices gain access to your network. The system continuously scans your network, looking for unauthorized attempts to obtain an IP address, ensuring simple and effective around-the-clock protection. It also specializes in detecting vulnerabilities in your LAN endpoints by regularly cross-referencing the US Homeland Security's database of Common Vulnerabilities and Exposures (CVEs).
New among its features, Veri-NAC will be deploying malware detection that will identify present malware running on your LAN endpoints. Veri-NAC will keep watch for outgoing network traffic going to known malware repositories and feature daily vulnerability and malware updates. Veri-NAC can also be configured to alert administrators of block-infected endpoints.
For more information on the Veri-NAC product line, including an on-demand webinar and video software demonstrations, visit http://www.blackbox.com/go/Veri-NAC.
Also debuting at the conference is Black Box's new network optimization solution, Opti-WAN™. This system accelerates downloads by improving the performance of TCP-based traffic on the Internet. Instead of throwing more bandwidth at Internet slowdowns, which often does not work since the realized throughput of a pipeline is often just a fraction of its rated capacity, Opti-WAN uses three different methods that work together to increase the efficiency of TCP. The system compensates for delay-jitter, dynamically adjusts receiver windows, and adjusts transfer rates to match congestion levels, which speeds up recovery from packet loss. Opti-WAN does not require anything of the end user, operating completely transparent to receiving computers, and does not rely on caching or compression to achieve its performance gains.
For more information on Opti-WAN, including a link to request a live demo, visit http://www.blackbox.com/go/Opti-WAN.
Veri-NAC and Opti-WAN are just a part of the growing Black Box family of security products, which will be featured at the RSA conference, other products include:

Optinet™ — A secure Web gateway that provides bandwidth shaping and content filtering, It enables control of Internet traffic with the ability to set appropriate policies and restrictions, and automatically enforce those policies.
Intelli-Pass™ — Highly secure biometric access control featuring unique two-part architecture for immunity from physical attacks, sniffing, and spoofing.
AlertWerks™ — Environmental monitoring to guard mission-critical IT equipment against physical threats like water, fire, and temperature extremes, plus optional video surveillance capabilities.
Additionally, Black Box offers a complete line of networking solutions plus cabinets and racks, digital signage and multimedia, cables, security, and more. All products are backed by free, live, 24/7 Tech Support, which customers can reach at 724-746-5500 or at blackbox.com.
About Black Box
Black Box is the world's largest technical services company dedicated to designing, building and maintaining today's complicated data and voice infrastructure systems. Black Box services more than 175,000 clients in 141 countries with 195 offices throughout the world. To learn more, visit the Black Box Web site at blackbox.com.
Black Box® and the Double Diamond logo are registered trademarks, and Veri-NAC™, Opti-WAN™, Optinet™, Intelli-Pass™, and AlertWerks™ are trademarks, of BB Technologies, Inc. Any third-party trademarks appearing in this press release are acknowledged to be the property of their respective owners.
###