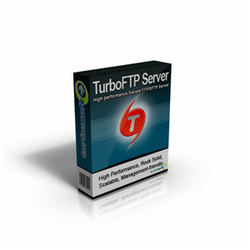 City Of Industry, CA (PRWEB) February 17, 2011
TurboSoft, Inc. is proud to announce the release of TurboFTP Server 1.30, a multi-protocol, high performance and management-friendly secure file transfer server.
TurboFTP Server supports virtual domains, by different combination of network interface and listening ports. Each domain has its own virtual file system rooted on a designated local directory. Access rights control to each folder within are governed by a set of permission rules for certain users and groups.
TurboFTP Server allows you to exert granular connection access control at both domain and user levels by IP rules, max number of connections, max number of connections per IP/User, etc. TurboFTP Server is highly flexible in terms of external authentication methods. It can authenticate the connecting user with ODBC, NTLM, LDAP and Active Directory. TurboFTP Server also provides extensive options to control users' disk quota and bandwidth consumption.
TurboFTP Server is an FIPS 140-2 compliant product and can protect transit of your sensitive data over the network with secure protocols FTPS, SSH and HTTPS. It supports FIPS 140-2 approved Triple DES, 256-bit AES, SHA-1, SHA-256 for encryption and crypto key exchange, and HMAC SHA-1 for message authentication. It supports secure FTP over explicit or implicit SSL/TLS, and it offers SFTP/SSH service and can exchange files with any SFTP client. Finally, it can provide HTTP/S service through a web based file management system. With any modern web browser a user can access the remote files and folders (list, download and upload).
TurboFTP Server's management console allows you to fully manage a local or remote TurboFTP Server instance over an IP network, with the option of SSL protection. When you manage the server remotely, you can browse and select remote folders when specifying a server path in settings or configuring directory access permissions. It allows you to see each connected user's information and it offers charting of real time performance matrics including download and upload speeds, number of connected users. Furthemore, in the latest version it has centralized the management of SSL certificates and SSH keys, making it much more straightforward. You can import, create, modify and remove entry of SSL certificate or SSH key under a dedicated user interface, and apply any of them to a connection service by simply selecting from a list.
TurboFTP Server runs on Windows 2000, Windows XP, Windows Vista, Windows 2003 Server, Windows 7, Windows 2008 Server R1/R2.
A single server license of TurboFTP Server costs from $99.00. More details about pricing and ordering at http://www.tbsoftinc.com/purchase.htm.
For more information and online tutorials of TurboFTP Server please visit http://www.tbsoftinc.com/.
Feel free to download the demo version at http://www.tbsoftinc.com/download.htm.
Contact: TurboSoft, Inc.
P.O. BOX 93236
CITY OF INDUSTRY, CA 91715-3236 USA
Email: support(at)tbsoftinc(dot)com
# # #