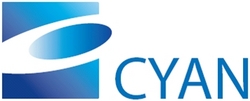 "By expanding our serving area by an order of magnitude, it is essential for Woodstock to choose partners that can support our network with not only innovative equipment, but the tools to help us operate more efficiently."
Petaluma, CA (PRWEB) February 16, 2011
Cyan today announced that Woodstock Telephone, an independent operating company based in Ruthton, Minnesota, has selected its Cyan Z-Series™ of multi-layer transport platforms, CyMS™ multi-layer management system and its recently-announced CyNOC advanced Network Operations Center (NOC) service to expand their fiber network with two transport rings to support over 3,600 premises in the southwestern portion of the state. The network, which will triple the size of Woodstock's serving area, will be built with a combination of grants and loans totaling over $15 million, which was awarded from American Recovery and Reinvestment Act (ARRA) funds under the Rural Utilities Service (RUS) Broadband Initiative Program (BIP).
"By expanding our serving area by an order of magnitude, it is essential for Woodstock to choose partners that can support our network with not only innovative equipment, but the tools to help us operate more efficiently," said Ken Knuth, president and CEO of Woodstock Telephone. "Cyan has proved to be exactly that kind of partner, which will not only help us to deliver advanced services over fiber today, but also give us the flexibility to add services such as video and Carrier Ethernet in the future."
Breaking ground later this year, Woodstock's new fiber network will reach multiple communities across four counties. These communities are currently underserved, with little or no high-speed broadband available. Upon completion of Woodstock's fiber network, residences and businesses alike will be able to take advantage of broadband speeds of up to 20Mbps for advanced voice and data services.
Breadth of Cyan Products and Services Power Transport Rings
To support the fiber-to-the-premises (FTTP) network that will reach subscriber homes and businesses, Woodstock will build two Cyan-powered transport rings, one to the North of Woodstock and another to the South. Woodstock will deploy Cyan's Z-Series packet-optical transport solutions, which provide high capacity and operational efficiency for scaling networks. Both the Cyan Z77 and Z33 platforms will be deployed within the rings, supporting a portfolio of interchangeable service modules and providing advanced Ethernet services with connection oriented Ethernet transport, SONET/SDH, OTN, DWDM and ROADM functions to scale network services and facilitate the transition of TDM to packet. The CyMS multi-layer management system will provide a clear view into the network with revolutionary three-dimensional network visualization to clearly show the relationship between services and associated transport layers.
In addition, Woodstock will be leveraging Cyan's CyNOC services. CyNOC services range from extending existing NOC personnel, to after-hours coverage, NOC redundancy, or fully customized turn-key NOC services, depending on the customer's selected tier of service. CyNOC not only minimizes the costs of introducing new services, it also accelerates their delivery, giving service providers a distinct competitive advantage.
"The Broadband Stimulus program has allowed service providers of all sizes to expand the networks and increase broadband capacity all over the country," said Eric Clelland, co-founder and vice president of sales at Cyan. "Through this rapid growth, Cyan is delivering the essential tools and services, such as CyMS and CyNOC, to innovative providers like Woodstock to help them efficiently scale. Coupled with Cyan's award-winning hardware solutions, we can provide the complete package to support growth, innovation and the complex transition to a next-generation, packet-optical network."
About Cyan
Cyan is an industry-leading, global provider of packet-optical transport solutions with advanced multi-layer network planning and management systems. Today, Cyan has network deployments across North America, and Europe. Customers range from multi-million line local access service providers, to regional transport, business Ethernet, wireless backhaul, data center, cable MSO service providers, and broadband stimulus funded network service providers. Cyan enables service providers to scale, extend and simplify conventional and packet-based networks for more profitable service offerings. Cyan is a Petaluma, California-based team of industry veterans with a track record of successful innovation in communications networks around the world. For additional information, please visit http://www.cyanoptics.com or follow Cyan on Twitter at http://twitter.com/CyanNews.
###