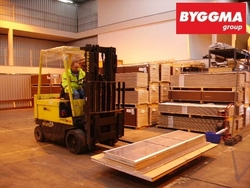 So far the transition has been very smooth, deliveries to our ongoing customers have all arrived on time. We look forward to a long term relationship with Len Lothian Ltd
(PRWeb UK) February 21, 2011
Byggma UK, the UK division of Norwegian giant Byggma, has recently become one of the newest success stories of Len Lothian.
Byggma, who manufactures a specialised wall product for bathrooms, showers and wet rooms called Respatex, were seeking an experienced storage company that could efficiently store and distribute its stock to trade companies and the construction industry throughout Scotland.
With the Glasgow & Edinburgh storage company's unique offering of business storage, office rental, computerised stock control and efficiently run dispatch services, there's no wonder why their services were selected by Byggma UK.
Being one of the only storage companies in Edinburgh to offer a full array of business storage from picking and packing to office space, Len Lothian were in a unique position to accommodate Byggma's current needs.
John Cavanagh, Byggma's sales director for Scotland, commented "We have been selling our Respatex product for over 20 years in Scotland via a Scottish Distributor, but with the market changing and becoming more competitive we decided to centralise our Scottish sales and logistical efforts with a reputable storage company"
Flexible Office Space
Len Lothian have been able to easily locate John and his sales team in one of their local Edinburgh office spaces near the distribution warehouse and on a flexible monthly rental agreement. Len Lothian provides offices throughout Edinburgh and Glasgow that accommodate a range of business needs.
Pick and Packing Services
With Len Lothian's extensive experience in storage, they are able to fully handle the stock control, acceptance, packing and dispatch of all Respatex products with ease. According to Byggma "So far the transition has been very smooth, deliveries to our ongoing customers have all arrived on time. We look forward to a long term relationship with Len Lothian Ltd."
Len Lothian's stock management is capable of tracking and reporting the exact stock held at any time. This type of information is essential to companies like Byggma, who can use this information to refine ordering timescales and reduce costs.
Alistair Lothian, Director of the family owned business, said "We are proud to be the only storage company in Edinburgh to offer the pick and packing service. The value we can provide our customers is paramount and we're always looking at ways to improve our services".
About Len Lothian
Len Lothian U Store is a family owned business, run by Alistair and Douglas Lothian, who have over 45 years of experience in the storage industry. The business has 3 storage depots in Edinburgh and 2 in Glasgow, which provide self storage solutions to both domestic and commercial customers with warehousing and archiving facilities.
###