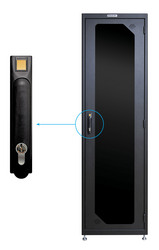 Black Box offers real biometrics solutions that are ahead of any competitive product in terms of sophistication, security, and ease of use.
Pittsburgh, PA (PRWEB) February 16, 2011
Black Box Corporation (NASDAQ:BBOX), an industry-leading provider of voice communications, data infrastructure, and product solutions, announced today it is demonstrating its Intelli-Pass Biometric Access Control for Cabinets at the RSA Conference, held February 14-18. Black Box will conduct the demonstrations at Booth #2550.
The Biometric Access Control for Cabinets is a complete software-controlled security system that was launched in the third quarter of 2010. The product features a fingerprint sensor on the front of the cabinet, allowing access to both the front and rear doors. A key competitive differentiator for the product is its ability to detect "life in the finger." The Intelli-Pass system detects blood flow, eliminating methods for spoofing fingerprints such as making photocopies or transferring fingerprint imprints to gloves.
Suitable for multiple environments, the cabinet lock is a perfect solution for facilities in the military, government, educational, financial, and healthcare realms. Innovative features include usage of electric locks, which offer strengthened protection against unauthorized entry. An internal battery backup provides clients with additional security during power failures, and LED lights on the front of the cabinet provide clear indications of cabinet status.
The access control for the cabinet is an integrated component of Black Box's complete Intelli-Pass product suite. Companies can control real-time access to Intelli-Pass guarded doors and cabinets using the same software interface. Black Box's software audits all access to the cabinets, providing clients with a clear trail to monitor usage. Control of all enrollment and management functions for cabinet access can be handled from a single desktop in real time.
"Biometrics control to secure areas is simply the way of the future," said Brian Kutchma, VP of sales and marketing for Black Box. "Black Box offers real biometrics solutions that are ahead of any competitive product in terms of sophistication, security, and ease of use. The Intelli-Pass powered Biometric Cabinet Lock provides facilities with an extra layer of security through the elimination of physical keys and keycards which can be lost, stolen, or mismanaged."
For more information about Intelli-Pass, visit http://www.blackbox.com/go/Intelli-Pass.
The annual RSA Conference is a global series of industry events that provides security industry attendees opportunities to learn about IT security's most important issues through first-hand interactions with peers, luminaries, and emerging and established companies. For more information, visit http://www.rsaconference.com.
About Black Box
Black Box is the world's largest technical services company dedicated to designing, building, and maintaining today's complicated data and voice infrastructure systems. Black Box services 175,000 clients in 141 countries with 195 offices throughout the world. To learn more, visit the Black Box Web site at http://www.blackbox.com.
Black Box® and the Double Diamond logo are registered trademarks, and Intelli-Pass is a trademark, of BB Technologies, Inc. Any third-party trademarks appearing in this press release are acknowledged to be the property of their respective owners.
###