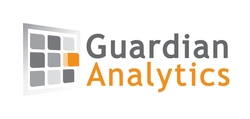 Los Altos, CA (PRWEB) February 16, 2011
Eric LaBadie of Guardian Analytics, the innovator in predictive analytics-based fraud prevention software, will be speaking today at the NAFCU Technology & Security Conference in Las Vegas. LaBadie, vice president of sales and client services at the company, will host a session entitled, "Know Your Customer: Using Behavioral Analytics to Improve Security and the Customer Experience."
In his presentation, LaBadie will discuss best practices of credit unions that are successfully stopping online fraud and the benefits of using a behavioral analytics-based approach. He will also present some case studies on how leading credit unions are successfully using anomaly detection and transaction monitoring to thwart fraudsters, protect customers and enhance their experiences online, and ultimately keep member assets secure.
At Guardian Analytics, LaBadie is responsible for the growth and success of the company's customer base. He is also a regular speaker at regional and national fraud, security and technology forums, educating credit unions and banks on attacks against online banking and how institutions today are successfully fighting back.
The NAFCU Technology & Security Conference is hosted annually by the National Association of Federal Credit Unions. The event addresses critical credit union technology issues, including online threats, physical security, compliance, and disaster preparedness and continuity.
Details for the presentation are as follows:
Who: Eric LaBadie, vice president of sales and client services, Guardian Analytics
What: "Know Your Customer: Using Behavioral Analytics to Improve Security and the Customer Experience"
Where: NAFCU Technology & Security Conference, MGM Grand, Las Vegas
When: Wednesday, Feb. 16 at 10:15-11:30 a.m. PST
About Guardian Analytics
Headquartered in Los Altos, Calif., Guardian Analytics is focused on the prevention of online account fraud. The company's risk management approach to fraud detection, forensics and risk monitoring is built on strong analytics and predictive models of individual behavior. Over 30 institutions rely on Guardian Analytics to protect individual account assets and the integrity of their online channels. Founded in 2005, Guardian Analytics is privately held with venture funding from Foundation Capital and Sutter Hill Ventures. For more information, please visit http://www.guardiananalytics.com.
# # #