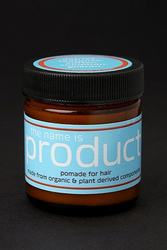 I can't get enough of this! I use just a pea-sized amount in our models' hair ... and it's great for both men and women.
Los Angeles, CA (PRWEB) February 24, 2011
The Name Is Product, a Los Angeles based company, is pleased to announce that its 100% natural hair styling aid, PRODUCT, is rolling out into select Urban Outfitters locations throughout the U.S. After a successful year with UO online, PRODUCT pomade makes its way into stores.
PRODUCT is an eco-friendly, all-purpose styling and grooming aid for both women and men, with a straightforward formulation of just five natural and organic components. PRODUCT's base ingredient, USDA Certified organic shea butter, is complemented with antioxidant vitamin E, soothing aloe vera and pure white beeswax. The result is a pomade that can be used to control frizz, define layers, shape curls and nourish hair that's exposed to the elements – natural or chemical.
In late 2009, Urban Outfitters, Inc. reached out to The Name Is Product, and shortly thereafter introduced PRODUCT pomade to its customers as an online only offering. The styling aid quickly became a favorite when UO launched its trend-savvy Beauty section, in June 2010.
In addition to earning glowing reviews from customers, UO stylist Russell Oden singled out PRODUCT pomade on his "Behind-the-Scenes Beauty" blog, writing, "I can't get enough of this! I use just a pea-sized amount in our models' hair before we begin shooting for a bit of protection from the heat of my styling tools. It's also great help to soften and defrizz hair after a long day of outfit changes, and it's great for both men and women."
With 130 locations across the United States, Urban Outfitters is an innovative specialty retail company with stores and brands that are both compelling and distinct. UO locations aim to offer an eclectic mix of merchandise in an environment of creativity. With its unisex effectiveness, welcoming price point, and clean non-toxic formula, PRODUCT fits nicely into UO's well-curated mix.
Stylish UO customers have made PRODUCT a hit, and in-store availability of the pomade in 2011 will grow the already successful partnership between Urban Outfitters and The Name Is Product.
To learn more about PRODUCT pomade, visit http://thenameisproduct.com, and connect via Facebook and Twitter.
ABOUT THE NAME IS PRODUCT
The Name Is Product is a small company based in Los Angeles, California dedicated to creating effective formulas for healthy hair care & styling in a responsible and earth-friendly manner. Why apply harsh chemicals or synthetic ingredients, when there's a truly 'green' option? The future is PRODUCT – pure ingredients for gorgeous hair.
# # #