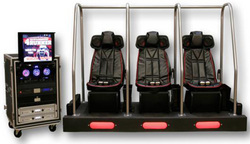 I felt as if I was actually behind the wheel of the new 4Runner as we were racing the Baja 1000. The motion was so realistic you forget its just a ride!" _______________________ Daytona 500 Participant
Tempe, AZ (PRWEB) February 17, 2011
This experiental simulator was fueled by Toyota's desire to demonstrate the amazing potential and raw power of the new 4Runner™ that will offer consumers an adventurous, fulfilling, and exhilarating driving experience as you endure the 672.85 mile drive down to Baja, Mexico, while at the same time providing the participants with heart pumping important safety information on the risks of distracted driving. Traveling around the country, this will be the second of many simulators that Toyota® hopes to use to educate and excite customers into test driving actual models and learning about road safety. The user is viewing the real adrenaline saturated footage taken by helmet cameras, helicopters, and several car mounted cameras that DTF motion coded to provide the most realistic ride of a lifetime while at the same time showing clips of professional Toyota® NASCAR drivers explaining the importance of being fully alert and focused on the road and your surroundings whenever behind of the wheel of a motor vehicle.
Toyota's® Baja simulator will be premiering on at the Daytona 500 Toyota® Pit Pass event, where participants will have the opportunity to sit down and experience firsthand through the eyes of the driver and helicopters what endurance and stamina the 4Runner™ demonstrated on the long journey. Then it will travel across the country to a race or dealer near you.
The three seat motion simulator is a state-of-the-art futuristic medium presenting the ultimate driver experience through the use of virtual reality wide screen personal head-mounted display systems to create a highly immersive and stimulating experience for users. This is the first sophisticated motion simulation system that physically moves and lifts the seat occupants horizontally and vertically with up to 2G's of precise acceleration and torque to accurately simulate the race. This simulator will let its users see what it is like to traverse over various types of terrain from rock walls, to jumps, to mud, and water the clean and easy way from the comfort of any Toyota® Pit Pass location at NASCAR races around the country. Users will actually see, feel, hear, and move in precise synchronization with all on-screen action, as they physically experience accelerations, turns, jumps and levitation with the footage they are watching so they become fully immersed in the Baja 1000 journey. Check out the simulator in action at http://www.ctsmotion.com. Get your grit on, but no texting!
About Digital Tech Frontier
Phoenix-based Digital Tech Frontier (DTF) is an industry leader and pioneer in the custom design, development and delivery of virtual reality systems and simulators for the entertainment, training, medical and education markets. DTF has created immersive virtual reality environments for numerous national corporate customers including: Disney, AT&T, Honeywell, Hyatt Regency, 21st Century Fox, Nokia Communications, ServiceMaster, Exxon, Budweiser, Thompson Newspapers, Allstate Insurance, Chase Bank and IBM. Founded in 1996, DTF's innovative technologies have been featured in Business Week, Popular Science, Time, and Wired magazine. Visit us at http://www.digitaltechfrontier.com.
###