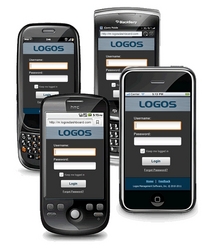 Santa Paula, CA (PRWEB) February 16, 2011 —
Logos Management Software, Inc. a developer of leading fund accounting and church management software, today announced it has launched mobile app, m.Church, using jQuery technology. This free mobile web addition will allow users with Ministry Connection software to quickly and securely look up individual and family information easily using a mobile device with internet capabilities.

The Quick Search form allows users to quickly access people in the database by search for: First Name, Last Name, Address, City, State, Zip Code, Phone Number, or Email.
For more complex search queries, text can be entered into any of the available fields accessed through the Advanced Search link.
To facilitate quick access to recent valuable information, the 10 most recent search queries by the user remain accessible on the home search page.
The search results page loads the Person Page, with access to the personal and family information that is housed within your LOGOS software with the most often needed personal information easily viewable at the top.
On many mobile devices, phone numbers and email addresses are clickable and initiates the applicable function on the device.
Using jQuery's cutting edge technology has allowed Logos to quickly adapt to the quickly changing technological landscape. According to jQuery's website, " jQuery is a fast and concise JavaScript Library that simplifies HTML document traversing, event handling, animating, and Ajax interactions for rapid web development. It allows website developers to create beautiful projects relatively easily."
"m.Church by Logos will change the way our users access people related information. We understand people need the right information right now. With m.Church, Logos users will be able to get just that, people related information from any mobile web browser. It doesn't stop there," says Tony Ferraro, Chief Visionary Officer for Logos Management Software, Inc. " We will soon be launching a version 2 of the m.Church product that will be even more feature rich. We are excited to bring the power and flexibility of LOGOS to the mobile environment."
About Logos Management Software, Inc.
Logos delivers solid church data management, a fully featured fund accounting system, and community software solutions to churches, non-profits and schools. Discover the efficiency of a well-designed office system with features like: easy child check-in, individual and visitor information, highly flexible profiles (skills and roles), confidential contribution records, and groups & attendance tracking. Easily customize features to fit your operation. For additional information, visit http://www.logoscms.com.
###