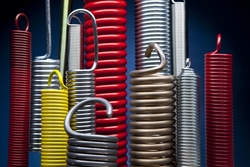 "With one of the largest and possibly the oldest stock catalog of springs in America, the new online spring catalog makes it easy for our customers to search and buy from our inventory and have it shipped the same day."
Chelsea, MA (PRWEB) February 16, 2011
Hardware Products Company, manufacturers of springs for more than 100 years, announces the launch of its new online spring catalog of more than 3500 compression springs and extension springs. Visitors to Hardware Products website at hardwareproducts.com will be able to search springs by material, length, diameter, and rate (lbs/inc).
According to Ted White, president of Hardware Products, "With one of the largest and possibly the oldest stock catalog of springs in America, the new online spring catalog makes it easy for our customers to search and buy from our inventory and have it shipped the same day." Hardware Products Company is the short-run expert in spring manufacturing. Visitors to the website will be able to request a quote on custom spring requirements and HPC's trained and skilled team will generate an estimate on custom made springs within an hour, and deliver springs the next day. "Getting the job off our customer's desk, on to our desk, and out to their shop in record time is our pledge to our customers." Says, Mr. White.
For spring buyers and engineers who have questions about springs they will be able to text live with HPC's "Spring Geek" within the websites "live chat" application. Buyers can also learn about HPC's Spring Portfolio Management Program, where companies that place blanket orders for the year can experience up to 30% savings on their spring purchases.
Hardware Products Company was founded in 1866 in the historic North End of Boston, a stone's throw away from Paul Revere's house, as a manufacturer of machined hardware items. The company, now located in Chelsea, MA has since evolved into a major manufacturer of compression springs, extension springs, flat springs, torsion springs, and many spring specialties like retaining rings. For more information visit Hardware Products new website at hardwareproducts.com.
###