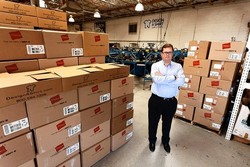 He isn't hoarding T-shirts because he expects the consumer price index to rise, say, 3 percent next year. He's hoarding T-shirts because he expects cotton prices, which jumped 137 percent in the past year, to increase further.
Tempe, AZ (PRWEB) February 17, 2011
DesignAShirt.com announced its acquisition of $300k worth of Hanes stock. This stock won't be traded on NYSE but Wall Street has taken notice and DesignAShirt customers will care because the company has purchased 175,000 Hanes® Tagless® Tees in black and white to combat the costs of what's rapidly becoming a cotton epidemic.
In the last 6-months The Wall Street Journal has reported on the recent rise of the cost of cotton and the dwindling supply of the much used commodity and last week, they sat down with John Anton, owner of DesignAShirt.com and Anton Sport, Inc. to discuss the Tempe based company's proactive approach to this issue.
'Mr. Anton, the T-shirt seller, bought mountains of shirts after receiving letters in January warning of an imminent price increase. One supplier's letter, a copy of which was reviewed by The Wall Street Journal, urged customers to "wrap up most of your pending orders and buy at the best possible prices." '
This stockpile purchase of DesignAShirt's best selling products, black and white Hanes® Tagless® Tees will allow the company to not only maintain the current product costs but also pass on some of the savings the company incurs to their customers.
In response to The Wall Street Journal's article, Bloomberg News columnist, Caroline Baum noted "Ben Bernanke arrived at his office a week ago and came face to face with his worst nightmare. Staring out at the Federal Reserve chairman from page C1 of the Feb. 3 edition of the Wall Street Journal was a photo of a man and his boxes."
About DesignAShirt.com
Design A Shirt, LLC (http://www.designashirt.com) is an online retailer providing an interactive designer for custom t-shirts, apparel and promotional products for individuals, businesses, groups and events. Established in 2003 as a division of Anton Sport, Inc. (http://www.antonsport.com), DesignAShirt has printed millions of custom t-shirts, apparel and promotional products for its customers.
###