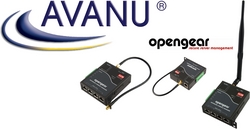 AVANU is excited to offer this powerful addition of Opengear's line of system management tools. The possibilities for mobile and remote monitoring, control, and management opened up by Opengear's new product are tremendous
San Jose, CA (PRWEB) February 16, 2011
AVANU® today announces the availability of Opengear's newest line of smart cellular routers. The ACM5004-G series extends secure 3G cellular network connectivity to remote and mobile sites using the same extensive networks used for cellular phones. The small size, as well as extensive connectivity, makes it easy to provide a whole new level of monitoring and control. Worldwide CDMA EV-DO or GSM HSUPA/UMTS cellular interfaces allow you to link to your systems and to Opengear's advanced router, firewall, power management, environmental monitoring, and advanced console server functionality. The extensive out-of-the-box ACM5004-G features can be further extended through the Opengear custom development kit (CDK).
Access the otherwise unreachable--managing equipment behind remote firewalls and VPNs
Monitor and access environmental controls and all on-site networked and serial devices
Enhanced security for connection over public cellular network. VPN. SSH. AAA.
Remote power cycle devices. Manage batteries. Control load. Control remote relays and displays.
Attach to sensors for smoke, fire, vibration, water detection, and door contacts.
Easy troubleshooting with on- & off-line data logging with time stamps
USB storage for logging as well as backup configurations of key devices.
Simple centralized admin using SolarWinds, Zenoss, Nagios, VCMS
Affordable alternative to fixed-line connection
The ACM5004-G has brought on a new category of monitoring and control with its smart cellular router--complete with
RSA-Certified FIPS140-2 compliant encryption. "AVANU is excited to offer this powerful addition of Opengear's line of system management tools. The possibilities for mobile and remote monitoring, control, and management opened up by Opengear's new product are tremendous," says Fritz Ames, Senior Vice-President of AVANU®.
Opengear's ACM5004-G cellular router is a solid solution whether you need to access and manage equipment that are normally unreachable behind remote firewalls and VPNs or for managing new types of distributed smart infrastructures being built for managing gas pipelines, traffic flow, and utilities. The ACM5004-G now offers these environments the required secure, foolproof remote connection and management across all the devices for remote sites.
Opengear Availability
Opengear's Manufacturer's Suggested Retail Price starts at US$675.00 and comes with a standard four (4) year product warranty. For additional information on Opengear products or becoming a reseller, contact sales(at)avanu(dot)com or call 1.888.248.4900 (US & Canada Toll Free); 1.408.248.8960 International.
About AVANU, LLC
Based in the Silicon Valley of California since 1997, AVANU® is a worldwide value-added supplier with a focus on IT network infrastructure, data center, software, design and implementation services. AVANU's customers are system integrators, value-added resellers, web-hosting companies, ISPs, co-location entities, Fortune 500 companies, educational institutions, and local and federal government agencies. AVANU's long-term customers appreciate our honesty, responsiveness, high integrity, and customer-centric focus. AVANU® is a certified participant in the U.S SBA's 8(a)/SDB development program, DoD CCR, and IAE's ORCA certified. http://www.avanu.com/about.htm
About Opengear
Opengear selected as a technology provider to the 2011 InteropNet in Las Vegas, designs and manufactures next-generation console server, power management and KVM over IP solutions for secure remote access and control of network devices such as routers, switches, servers, firewalls, uninterruptible power supplies, power distribution units and environmental monitoring devices in distributed networks. Opengear console servers are installed in more than 10,000 locations around the world. Opengear's open source platform give network managers and systems integrators the most flexible, extensible, console server solution on the market today for serial console ports, service processors, power solutions and environmental monitoring.
Copyright © 2011 AVANU, LLC. San Jose CA USA. All rights reserved.
AVANU is a Registered Trademark of AVANU, LLC
All other trademarks and registered trademarks are the property of their respective owner(s)
# # #