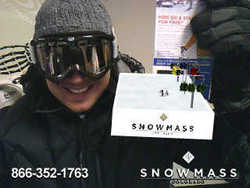 "DTF was willing to work within our budget and delivered a final product that rivals any of the other higher priced options" _______________________ Kevin Roberts, The Meyers Roberts Collective
Tempe, AZ (PRWEB) February 17, 2011
This new Snowmass AR experience is the first ever of its kind in the ski/snowboard industry. This technology and print campaign was driven by Snowmass Mountains marketing team, The Meyers Roberts Collective, to take a more interactive and engaging approach to attract parents and young skiers for the 2011 Kids Ski Free Campaign.
The fun begins when users will receive a standard postcard in the mail that contains a special black and white patterned symbol. Next they will need a computer, webcam, and the website http://www.nowareality.com. Once they are on the site, hold the postcard in front of the webcam. POOF! The symbol is then recognized by a computer program that uses similar technology used for facial recognition at airport and boarder security. As the computer recognizes the symbol on the postcard, it magically comes alive with video, sound, 3D objects and interactive animations. In this instance, the user will see virtual skiers, a moving ski lift and hear kids laughing as they are instructed in how to ski down the mountain. There is also an essential still capture viral feature that allows users to share your experience with others through email, Facebook, Twitter, YouTube, or any other social media outlet.
This is a very powerful and effective tool that also utilizes simple analytics to track, capture and share information from the users who ski from their couches. This information enables them to target users with additional offers and promotions related to Snowmass skiing/snowboarding and the Kids Ski Free Program. Within hours of its launch, The Meyers Roberts Collective was so overwhelmed with positive interest that they had to quickly manage the response and re-route their email servers. Due to the tremendous growth of the campaign, The Meyers Roberts Collective is excited to begin on a second AR concept beginning in the spring.
Video games and interactive experiences can be expensive but print mailers are not. Something's as simple as a postcard can now be played with like a video game giving the marketers a cost effective solution and an engaging technology that young consumers have grown to expect from there Facebook, YouTube, PlayStation and other immediate gratification devices. AR changes the landscape by giving marketing a tool in which to deliver information via print, and an interactive platform like that of video games that can now be shared and branded with company's logos and experienced right in the palm of the hands of the consumer.
DTF provides imaginative Augmented Reality applications for a variety of purposes such as marketing, entertainment and now K-12 education. These custom AR programs will significantly improve marketing initiatives, drive sales, create increased brand recognition, and enlarge customer bases through viral and social media outlets.
About Digital Tech Frontier, LLC.
Phoenix-based Digital Tech Frontier, LLC. (DTF) is an industry leader and pioneer in the custom design, development and delivery of Augmented Reality reality systems for the entertainment, training, and education markets. DTF has created immersive Augmented Reality applications and created virtual environments for numerous national corporate customers including: Disney, AT&T, Honeywell, Hyatt Regency, 21st Century Fox, Nokia Communications, ServiceMaster, Exxon, Budweiser, Thompson Newspapers, Allstate Insurance, Chase Bank and IBM. Founded in 1996, DTF's innovative technologies have been featured in Business Week, Popular Science, Time, and Wired magazine. Visit us at http://www.digitaltechfrontier.com.
###