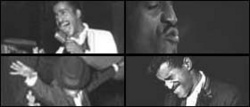 Los Angeles (PRWEB) February 16, 2011
Tracey Davis, the matriarch and heiress to the Sammy Davis Jr. rights has executed an unparallel deal with Rick Appling. Appling, will produce a feature film and a series of documentaries based on her copyrights interest in books as well as her ownership granted to her by her father through a trust. Chairman of LaRoda LTD, Barrett LaRoda negotiated and finalized the deal on behalf of Tracey Davis. LaRoda says, "Tracey has always been known as the enforcer and protector of her father's legacy. I am extremely proud that she is going to once again share her father with the world. This is truly a legacy building block project." Tracey has only assigned her rights once before and that was to entertainment tycoon, Quincy Jones. Tracey has decided to grant her rights to independent film maker, Rick Appling. Sammy, known to be an advocate of the independent industry and he himself, had many independent projects. Appling was groomed in the film industry by John Daly, who was a producer of thirteen Oscar winning movies including Platoon. Appling says, "God is Good. Being chosen to do the Sammy Davis Jr. story is one of my greatest accomplishments to date. I look forward to working with Tracey as her experience, knowledge, and love for her father I know will come across to the audiences of these films."
Tracey is the daughter of the Hollywood marriage between Sammy Davis Jr. and May Britt. Britt, was the Swedish film star that graced the cover of Life Magazine in 1959. Tracey is an entrepreneur and author who scored great success with her best-selling book, Sammy Davis Jr.: My Father. Tracey shares a loving relationship with her mother and is working on her next book, May Britt: My Mother.
Tracey states that, "For film projects of this magnitude, I know my father would have wanted to incorporate his friends, Clint Eastwood, Bill Cosby, Gladys Knight, and Quincy Jones. One thing I remember about my dad is that he would always say to me, "I enjoyed and admired the up and coming cats." "I know that he would have loved Jay-Z, P Diddy, Savion Glover, Justin Timberlake, Taylor Swift, Usher, and Spike Lee."
Sammy Davis Jr., known as "Mr. Entertainment, had a successful recording, Broadway theatre, film and television career, but his passion was dancing, live performing and concerts.
Rick Appling has in development a yet to be titled short film to be with longtime friend, Fred "The Hammer" Williamson. Appling also co-produces the Toast Awards with Dr. M.C., an annual event that honors local entertainers and business professionals. A portion of the proceeds from the Sammy Davis Jr. film will go to contribute to two non-profits that Appling supports. The G.R.E.E.N. Foundation, which provides health education, addresses major concerns and awareness to annuity on Health Care and the Hollywood Vine Recovery Center, which provides substance abuse treatment. It has an 80% recovery rate program, with celebrity involvement within the program. Appling is represented by New York attorney and daughter, Rigodis Appling and Los Angeles based attorney Joel Isaacson.
Barrett LaRoda is a well-established name in the entertainment industry. His company, LaRoda LTD is a licensing, branding and intellectual property company. A division of LaRoda LTD specializes in talent acquisition and executive producing of large scale events. LaRoda is the exclusive licensor for R& B legend and Empress of Soul Gladys Knight. LaRoda negotiated a branded Gladys Knight jewelry line with fashion jewelry leader Robert Rose. Most recently, LaRoda has concluded an infomercial deal for a branded Gladys Knight product with infomercial giant, BJ Global Direct scheduled to debut later this year.
For all media and press inquiries for Rick Appling, and Tracey Davis, please contact Christopher Brown.
Chris Brown PR is an innovative full service, multimedia and public relations company. We are dedicated to developing, managing and advancing the ideas, visibility, and brands of our clients. Chris Brown PR offers an array of services to assist with the growing market and industry, and serve all levels of industry needs. As an all-inclusive entity, we are dedicated to exceeding our clients' needs. We are passionate about developing and delivering innovative PR campaigns designed to secure top media placements.
Contact: (864) 612-8950
chrisbrownpr(at)gmail(dot)com
###