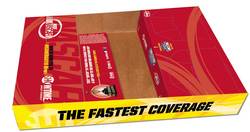 Greenwich, CT (PRWEB) February 16, 2011
After the last successful BRANDedTRAY campaign at the SHOWTIME Southern 500, SHOWTIME refuels with BRANDedTRAY at the Daytona International Speedway for Speedweek, including the Budweiser Shootout, Lucas Oil Slick Mist 200, Gatorade Duel, NextEra Energy Resources 250, DRIVE4COPED 300, and the Daytona 500.
Known as the "Great American Race",,the Daytona 500 delivers a Speedweek with hundreds of thousands of rabid fans in attendance, making BRANDedTRAY the perfect vehicle for SHOWTIME to promote "Inside NASCAR". With a Text To Win Grand Prize to this year's SHOWTIME SOUTHERN 500, including an all-expense paid VIP trip for 4, SHOWTIME is sure to get the attention of NASCAR fans.
After the independent research by Sponsorship Research International (SRi), BRANDedTRAY proved 475% more effective than in-game promotions at sports venues. "This research is why companies like SHOWTIME are coming back for more BRANDedTRAY sponsorship programs...", says BRANDedTRAY President, Bob Zaccardo. He goes on to say, "…BRANDedTRAY gives sponsors, like SHOWTIME, the flexibility to engage and activate in all sports, all over the country."
ABOUT BRANDedTRAY
BRANDedTRAY produces high-quality, sponsored food and beverage serving trays provided free during concessions stand purchases at sports and entertainment events in participating stadia, arenas and race tracks. BRANDedTRAY is the approved serving tray of MLB/MiLB, NFL, NBA, NHL, MLS, NCAA and NASCAR.
Get more information about BRANDedTRAY and their pioneering Text-To-Win contests, sweepstakes, couponing and 2D barcode promotions by downloading BRANDedTRAY's media kit at: http://www.brandedtray.com/media, and "fan" BRANDed on Facebook.
MEDIA CONTACT:
Thomas Anthony Piccolo
VP, Public Relations
BRANDedTRAY, LLC
Phone: 214-550-3388
###