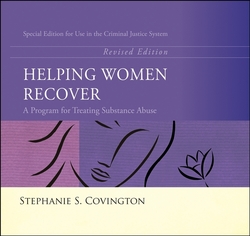 Hoboken, NJ (PRWEB) February 17, 2011
John Wiley & Sons, Inc – Dr. Stephanie Covington author of HELPING WOMEN RECOVER: A PROGRAM FOR TREATING SUBSTANCE ABUSE and A WOMAN'S JOURNAL: HELPING WOMEN RECOVER, is the featured therapist appearing in a 7 episode docu-reality series named "Breaking Down the Bars" airing on the Oprah Winfrey Network. The series launched on February 15th, 2011 at 9pm. The reality show follows female prisoners at the Rockville Correctional Facility in Indiana. Dr. Covington guides the prisoners through their emotional journeys in prison, and works with them on rehabilitating their lives.
AUTHOR BIO:
Stephanie S. Covington, Ph.D. (La Jolla, CA) is a nationally recognized clinician, author, organizational consultant, and lecturer. She is a pioneer in the field of women's issues, addiction, and recovery. She has developed an innovative, gender-responsive, and trauma-informed approach to the treatment needs of women and girls that results in effective services in public, private, and institutional settings. Her presentations, staff-development seminars, and technical assistance focus on systems change and the development of caring, compassionate, and empowering therapeutic environments. They provide professionals an opportunity to learn new skills for dealing with personal, institutional, and societal changes and are always in demand, both nationally and internationally. Dr. Covington's clients include the Betty Ford Treatment Center, the Hanley Center, Pine Grove Women's Center, the United Nations Office on Drugs and Crime, the Center for Substance Abuse Treatment in Washington, D.C., the California Department of Corrections and Rehabilitation, and numerous other treatment and correctional settings. Dr. Covington is currently a Co-Director of the Institute for Relational Development and the Center for Gender and Justice.
Helping Women Recover: A Program for Treating Substance Abuse - Special Edition; Published by John Wiley & Sons, Inc.; Publication date: June 27, 2008; $195.00; Hardcover; 392 pages; ISBN: 978-0-7879-9534-8
Please note additional titles by Dr. Stephanie Covington:

A Woman's Journal: Helping Women Recover; ISBN: 978-0-7879-8872-2
Helping Women Recover: A Program for Treating Addiction; ISBN: 978-0-7879-9533-1
Helping Men Recover: A Program for Treating Addiction; ISBN: 978-0-470-91433-5
Helping Men Recover: A Man's Workbook; ISBN: 978-0-470-48656-6
A Man's Workbook: A Program for Treating Addiction; ISBN: 978-0-470-48657-3
# # #