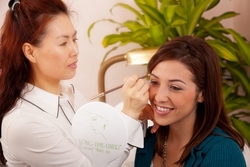 Naturally Beautiful All Day and All Night ™
Beverly Hills, CA (PRWEB) February 18, 2011
Becoming a part of the world's leading provider in new make-up technology for eyebrows, lips and eyeliner is now a reality. The LONG-TIME-LINER® Linergist® training program allows fashionable individuals who posses a great sense of style and beauty to further their education. Individuals that are already motivated, determined and posses a "take charge" attitude are great candidates for a career as a Linergist®. Lots of these individuals are thinking about working in the field of beauty and just don't know where to begin, it is now time to parlay that style, energy, knowledge and passion for beauty into a great career and future with LONG-TIME-LINER®.
As a Linergist®, a certified Conture® Make-up technician, individuals can take part in the joy of helping their personal clients feel great and look naturally beautiful every single day. They can experience a stimulating, intensive training program where they will learn the immense skills required to be certified to use the Conture® Make-up method, device and colors to ensure the finest level of pigmentation.
With LONG-TIME-LINER® Conture® Make-up, the services are conducted with completely disinfected and sterilized equipment and a one-time-use needle. The color is pigmented into the first layer of the skin, the Epidermis, where it lasts anywhere from 1-3 years more or less depending on the individual's skin regeneration. Conture® Makeup can be touched up to refresh the design, shape or color, so after a few years if the client wishes to change the shape or color, plain and simply…they can! These are the ultimate benefits for any woman, man, or recovering patient looking for corrective makeup to update their look, without the fear of a life-long commitment.
What many don't know is that permanent makeup often lasts longer than LONG-TIME-LINER® Conture® Make-up because permanent makeup is pigmented deeper into the layers of the skin. Permanent makeup procedures aim to pigment in the Dermis or Hypodermis areas, which contain hair follicles, blood vessels and fat cells. This means that permanent makeup can be more painful, more invasive and more damaging to the skin. Many individuals who have had permanent makeup or tattooing go through painful, time consuming and expensive removal procedures. With LONG-TIME-LINER®, clients can now save themselves not only time, but money as well.
LONG-TIME-LINER® is determined to be the leading industry provider of the highest quality in long-lasting makeup technology. Quality and innovation are both at the forefront of what LONG-TIME-LINER® stands for. As a brand, LONG-TIME-LINER® has worked closely with dermatologists, plastic surgeons and doctors to develop micro pigmentation technologies and products even further. With the LONG-TIME-LINER® system featuring precisely matched colors, state-of-the-art needle modules, medically regulated equipment and Eduqua certified training, LONG-TIME-LINER® delivers a superior, sustainable advantage for clients and business partners to support smooth and effective implementation of their products and services.
The LONG-TIME-LINER® Linergists® are honest, respectful, and friendly. The LONG-TIME-LINER® staff is constantly striving to exceed expectations from clients and business partners on customer service.To learn more details about the LONG-TIME-LINER® training program, please check out: http://longtimeliner.com/02linergist/01intro.php
or call (310) 271.3322 to enroll in one of the ten upcoming training programs for 2011.
Upcoming start dates for available training classes in the United States through the newly opened, Beverly Hills location include:

March 14, 2011
April 11, 2011
May 16, 2011
June 13, 2011
July 11, 2011
August 15, 2011
September 5, 2011
October 17, 2011
November 14, 2011
December 5, 2011
LONG-TIME-LINER® Beverly Hills is open Monday-Friday (10am-6pm); Saturdays (10am-5pm); and is closed on Sundays. For further information, please visit: http://www.longtimeliner.com
###