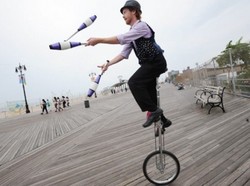 the Police are targeting cyclists, and will go to great lengths to bring criminal charges against them. Mr. Petersen has done nothing illegal and I hope that the Police will now think twice about issuing criminal summons without a proper legal basis
Brooklyn, NY (PRWEB) February 24, 2011
On February 15, 2011, Criminal Defense Attorney Todd Spodek was successful in having all of the criminal charges against Mr. Petersen dismissed in Brooklyn Criminal Court. Mr. Spodek sought an outright dismissal of the charges based on Criminal Summons 4328988293 being defective. Mr. Spodek argued at a hearing that the Summons did not make out a prima facie case of Disorderly Conduct against his client.
The Police first issued Mr. Spodek's client Criminal Summons 2008KN026676 on December 4, 2008 for riding a bicycle on the sidewalk - an Administrative Code Violation. The Summons was ultimately dismissed in Brooklyn Criminal Court as a unicycle does not fit under the definition of "bicycle" - it only has one wheel instead of the necessary two or three under the City's definition.
According to court documents, Mr. Petersen was again stopped by Police Officers from the 78th precinct for riding his unicycle on the sidewalk on November 11, 2010. Mr. Peterson insisted that his conduct was legal, and not covered under the Administrative Code. Mr. Spodek explains "the Police at the 78th Precinct got crafty, and wrote up Mr. Petersen for Disorderly Conduct under the Penal Law, instead of Riding a Bicycle on the Sidewalk."
Mr. Spodek explained "to sustain the charge of disorderly conduct under Penal Law 240.20(5) the following elements must be proved beyond a reasonable doubt: 1) that the defendant intended to cause public annoyance or alarm, or recklessly created a risk and, 2) that the defendant obstructed vehicular, or pedestrian traffic. The Police paperwork was devoid of any facts supporting the theory that Mr. Petersen intended to cause any type of annoyance or alarm, or that he recklessly created any risk. Mr. Petersen is a trained professional who teaches at the Big Apple Circus and was taking up less then a foot of the sidewalk, with absolutely no other pedestrians in front or behind him."
Mr. Spodek stated "it is clear that the Police are targeting cyclists, and will go to great lengths to bring criminal charges against them. Mr. Petersen has done nothing illegal and I hope that the Police will now think twice not about issuing criminal summons without a proper legal basis."
Attorney Paul Hale is representing Mr. Petersen in a civil rights law suit pending in U.S. District Court in the Eastern District of New York under Index No. 10-cv-5254. Now that the second Summons has been dismissed Mr. Peterson can amend and move forward with his lawsuit against the ticketing officers for False Arrest, False Imprisonment and Malicious Prosecution. Mr. Hale stated, "Needlessly ticketing law abiding citizens, especially when the police were informed he was acting within the law, needs to stop. We do not live in a police state and the police cannot arbitrarily ticket citizens. It's a sad state that he has to sue, but that is the only way the police will listen and begin respecting his and other New Yorker's rights."
Todd A. Spodek is a criminal defense attorney with the law firm of Storobin & Spodek, LLP. Mr. Spodek can be reached at (212) 748-9243. For more information about his firm, please visit http://www.storobinspodek.com.
Paul Hale is a civil rights attorney, and the owner of the law firm Hale Legal Group. Mr. Hale can be reached at (718) 554-7344. For more information about his law firm, please visit http://www.halelegalgroup.com.
###