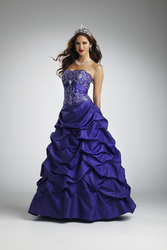 Quinceañera is such an important milestone in a young girl's life and our new line not only celebrates this time- honored tradition, but allows teens to show off their personal style
Conshohocken, PA (PRWEB) February 16, 2011
Quinceañera, the unforgettable celebration of a girl's fifteenth birthday in the Latina culture, symbolizes a teen's transition into womanhood, and like all special events, fashion plays an integral role. As the nation's leading bridal and special occasion authority, David's Bridal is making this tradition more glamorous and affordable with the launch of their Quinceañera Collection. With more than 50 years of experience helping women and teens find the perfect dress for the perfect occasion, David's Bridal is bringing that same expertise to their new line of classic yet trend-driven Quinceañera dresses and accessories.
"Quinceañera is such an important milestone in a young girl's life and our new line not only celebrates this time- honored tradition, but allows teens to show off their personal style," said Catalina Maddox-Wagers, David's Bridal Quinceañera Fashion Director. "We're excited to help Quinceañeras of all body types and budgets find their dream looks from our unforgettably stylish and personalized collection."
Picture-Perfect Gowns
Inspired by princess looks, the David's Bridal design team unveils exclusive styles that combine traditional Quinceañera elements with a modern twist. Unique necklines, embellished skirts and dramatic details round out the figure-flattering collection and ensure she shines on and off the dance floor.
While white may traditionally be the gown color of choice, a new vibrant palette including Apple red, Malibu blue, Watermelon fuchsia, Regency purple and Sunbeam yellow provides teens with endless options. David's Bridal offers a variety of classic ball gown styles boasting full tulle, soft shirring, organza or pick-up skirts and strapless, sweetheart or halter necklines. Beautiful satin gowns finished with elegant and ornate metallic embroidery add an element of surprise and glamour. Quinceañeras can show off their inner princess with a fitted bodice delicately adorned with crystal embellishments, beading or a colored sash.
Dazzling Damas Dresses
When it comes to dressing the "honor court," sleek designs meet bold trends for gorgeous Damas looks. From organza ball gowns with playful tiers to short charmeuse stunners, Damas can choose from a beautiful selection of fashion-forward, colorful dresses. Whether Quinceañera chooses to outfit her Damas in the same dress or just the same color, David Bridal offers styles in the hottest colors and silhouettes for an honor court of all shapes and sizes.
Fabulous Finishing Touches
Quinceañeras can complete their picturesque looks with coordinating, head-to-toe accessories, including stunning jewelry, dazzling hair accessories, and chic satin gloves. At David's Bridal, Quinceañeras can opt for a variety of affordable, fashion-forward shoes - including both flats and heels - which are perfect for the customary "shoe exchange" ritual, signifying the transition into womanhood. What's more, David's Bridal offers striking tiaras and beautiful scepters, as well as custom-made invitations that emulate a Quinceañera's princess-perfect look.
As the new destination for Quinceañeras, David's Bridal ensures teens will stand out in style at this special celebration. Available at David's Bridal stores across the country, gowns range from $399 - $1,100 and are available in sizes 0 - 26W, while glittering accessories start at $10.
About David's Bridal
With more than 50 years of experience, David's Bridal understands the importance of providing teens and brides-to-be with a vast selection of exquisitely crafted dresses, available at affordable prices. Today, with over 300 locations nationwide, David's Bridal continues to expand its retail store locations, while maintaining its philosophy of superior quality, value and service. To locate a store nearby, consumers can visit http://www.davidsbridal.com/quince.
Copyright © 2011 David's Bridal, Inc. All rights reserved
###