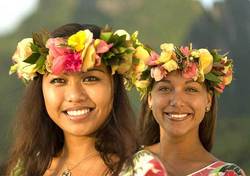 "You'd be surprised at how quickly you can improve as a photographer when professionals give you instant feedback."
Miami, FL (PRWEB) February 17, 2011
The 10th Annual Digital Photography Workshop Cruise, embarking from Tahiti on April 16, 2011, will be conducted by Arthur Bleich, professional photographer and educator, along with Adrian Coakley, Illustrations Editor at National Geographic, and Tim McKenna, renowned outdoors photographer who has shot editorial and advertising images in French Polynesia for more than 15 years.
Bleich has always been interested in a workshop in the South Pacific, but the logistics seemed daunting. "Our attendees are adventurous and talented, but roughing it isn't their style. This is the perfect solution. After a challenging day of shooting, they can return to the m/s Paul Gauguin and unwind in luxurious surroundings. Each attendee and companion will receive a $500 shipboard credit good for shore excursions, gift purchases, diving lessons, spa treatments and more."
The workshop's professional instructors have impressive backgrounds. Bleich has photographed for major magazines, was the official photographer for an Antarctic expedition and is a contributing editor at Rangefinder, the leading U.S. professional photography magazine. Coakley's books at National Geographic have won international acclaim, and he is known for his impeccable taste in images. McKenna has done surfing and extreme-sports assignments in more than 30 countries in addition to documenting the beauty and culture of French Polynesia.
Photographers enrolled in the workshop will shoot onshore during the day, and view their images during evening sessions. "In the past, this has been the most enjoyable and valuable part of the workshop," says Bleich. "You'd be surprised at how quickly you can improve as a photographer when professionals give you instant feedback." During the four days the ship is at sea, there will be lectures and demonstrations on technical and esthetic subjects. Toward the end of the cruise, all passengers aboard will be invited to a presentation at which the best pictures that have been shot will be shown.
Attendees enrolled in previous workshop cruises have had their images published in magazines, on web sites and exhibited in shows. "Over the years we've developed some unique techniques to teach photographers to quickly grasp the key elements of 'seeing' which results in great pictures," explains Bleich. A professionally designed book will showcase each photographer's work and each attendee will receive a copy. Photographers who wish to enroll in the workshop should visit: http://www.dpcorner.com/cruise or call 800-652-2267.
# # #