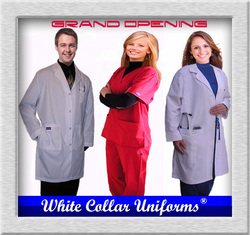 A breakthrough revolutionary company has designed the ultimate lab coat style for doctors and physicians worldwide, "White Collar Uniforms!"
Corona, CA (PRWEB) February 19, 2011
White Collar's breakthrough designer lab coat for doctors offers the first ever practical design in white coats. These lab coats are revolutionary and they were invented to help the doctor interact with common tools used by doctors in the hospital/clinical settings. White Collar features the only lab coat pocket that's custom made to hold the most valued instrument of the doctor, "The stethoscope." The stethoscope has been around since the beginning of medicine and most doctors have been forced to hold this medical tool in their hands or around their necks. Some doctors' stuff their stethoscopes in their lab coat pockets which makes them look disorganized and even sloppy in some cases. The White Collar lab coat team has invented the stethoscope pocket which offers quick access and fashion design to these revolutionary lab coats.
White Collar Uniform's designing team set out to create the ultimate white coats for doctors and physicians around the world. Most doctors are required to carry cellular technology because their services are considered life saving in general. White Collar invented the first prototype cell phone pocket which allowed the doctor to carry their cell phones easily and securely. The cell phone pocket was a success and it was later integrated into every designer lab coat made. The cell phone and the stethoscope now had a very unique place on the doctor's lab coat which allowed quick access, fashion, design, and most importantly, practicality. White Collar didn't stop there, "How can we make a designer lab coat that's fully functional for every doctor?" The newly designed lab coat looked very good but it was missing one final detail.
White Collar's designing team later invented a revolutionary cross over pocket for females and for male doctors. Now the white coats were complete with the addition of the PDA pocket for males or females, or the make-up pocket for females with a designer style zipper. White Collar Uniform's breakthrough designs in women lab coats and in men lab coats was complete. This is our sporty lab coat design and these white coats are exceptionally beautiful and practical for doctor use. White Collar had invented the ultimate lab coat for doctors and the only thing missing was a label that would be stylish and trustworthy of white collar's name. Not only did white collar's desingning team create a perfect label, "They created a series of labels designer labels that complimented the other designs of the lab coat."
Women lab coats have never looked better and the prices for these coats have never been cheaper. Now the women don't have to worry about having their stethoscope get tangled in their hair anymore. White Collar coat offers professionalism, style, fashion, beauty and practicality for the women doctors in the world. Men doctors have never looked better with White Collar's men lab coats. Everything is right at the doctor's grip now and the doctor is looking good. White Collar Uniforms has succeeded in their quest to design the best lab coat in the world for doctors. Holding down cost was another major concern and believe it or not, but White Collar is the lowest priced lab coat for designer coats or regular white coats in the business. These highly affective interactive beautiful lab coats are priced lower than any other lab coat company on the web. Introducing White Collar lab coats for men and women doctors, "You are going to love the way you look and feel in our lab coats!"
Come see these revolutionary breakthrough lab coats at White Collar's newly designed search engine optimized website. Easy navigation and high quality designs are awaiting everybody who loves lab coats and medical clothing in general. Men lab coats have never looks better. Women lab coats have never looked better. Look for White Collar brand uniforms and medical clothing coming soon!
White Collar Uniforms
http://www.blowoutsales.org
# # #