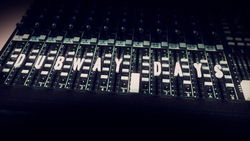 Dubway Days: Two Artists...One Day...One Song.
New York, NY (PRWEB) February 16, 2011
Filmed in NYC's renowned Dubway Studios, the artists have access to the best recording resources available: vintage instruments, state-of-the-art recording software and hardware, and the best engineers in the business.
Dubway Days provides a rare window into the inner workings of songwriting and recording, showing how a song goes from the first "plink" on a piano key to the fully orchestrated studio production you hear on the radio.
There's no cheating. When the artists arrive in the morning, there is no song, and the pressure is on not only to get a song written and recorded, but to make sure it's a great song.
Viewers first get to watch longtime songwriter and performer Ben Arthur help the artist create the song, building verse, chorus and bridge from the ground up. Then producers Al Houghton and Mike Crehore take over as arrangements and performances are honed and tracks are laid down. Before the day is done, a song is born and everyone gathers around the mixing console to listen for the first time.
This is for real – the challenge is huge, and the results are astonishing and unpredictable. Dubway Days is an unprecedented glimpse behind the curtain, an intimate look at the creative process of some of the best musicians and songwriters out there.
Watch the world premiere of Dubway Days, featuring Vienna Teng and Ben Arthur, on YouTube or at the BreakThru Radio site!
Dubway Days: Two Artists...One Day...One Song.
BreakThru Radio is "Radio Rediscovered" in a world where FM is out of frequency. In today's overly saturated music market, it is often difficult for listeners to find what they are looking for. BreakThru Radio has the solution. Listeners are given access to independent music from an expansive and diverse pool of genres, in addition to an innovative comedy platform. Offering the best in music from around the world, BreakThru Radio brings its listeners tracks recorded exclusively for the BTR audience from our live studio. BTR offers on-demand access to its shows and on-the-go iPod capability.
Stay connected and up to date for the latest Dubway Days content on our social networks:
Follow Dubway Days on Twitter
Follow BreakThru Radio on Twitter
Like Dubway Days on Facebook
Like BreakThru Radio on Facebook
For more information please contact: abraham(dot)benzvi(at)gmail(dot)com
###