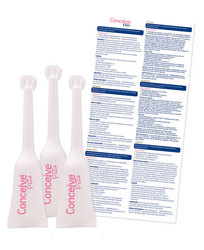 Conceive Plus better mimics fertile cervical fluid creating a conception friendly environment
Chicago, IL (PRWEB) February 17, 2011
Sasmar, Inc. announced today that it has been granted Federal Trademark registration for its fertility brand 'Conceive Plus', paving the way for release of its break-though conception assistance product to U.S. pharmacies and consumers in the second quarter of 2011.
Conceive Plus® is the only lubricant that contains Calcium and Magnesium ions, a formulation protected by internationally filed patents. Found naturally in fertile cervical mucus and seminal fluid, Calcium and Magnesium ions play an essential role in sperm and egg viability and in the process of fertilization. By combining physiologically important ions in a pH and electrolyte balanced gel Conceive Plus better mimics fertile cervical fluid creating a conception friendly environment that feels natural and increases the likelihood of conception for all couples who are trying to get pregnant naturally.
Conceive Plus® is clinically tested safe for human sperm viability and sperm motility, and safe for embryo development, whereas other lubricants can create a barrier or damage sperm or embryos and should be avoided when trying to get pregnant. Only Conceive Plus is approved to state that it "enhances sperm survival and motility" and "promotes egg fertilization" and so is ideally suited for couples trying-to-conceive a baby naturally.
The success of the Conceive Plus® brand reflects a different approach to connecting with consumers. By promoting unbiased information, clearly explaining the key differences and benefits of Conceive Plus encourages consumers to make an informed choice" Says COO Andrew Soutter. "This is in contrast to others who promote disinformation and scientific scare tactics which puts consumers off….the product speaks for itself" This approach has allowed Sasmar to engage with thousands on Twitter and Facebook, who connect with and trust in the brand as a result.
Conceive Plus® is recommended by leading retailers, fertility clinics, hospitals and pharmacies in over 30 countries globally including Australia, Singapore, Malaysia, Sri-Lanka, Germany and the United Kingdom. The range of Conceive Plus® products are also available online from Amazon.com.
Information on published clinical studies and consumer testimonials is available at http://conceiveplus.com.
About the SASMAR company:
SASMAR® is a multinational pharmaceutical company headquartered in Belgium and operates in the areas of women's health, fertility and family planning. SASMAR® is a major supplier of lubricants to international governmental organizations in HIV/AIDS prevention and awareness programs in third world and developing countries. The group has operations based in Sydney Australia, London United Kingdom, Chicago United States and has a presence in more than thirty countries through a network of distribution partners. More information on the company is available at http://www.sasmar.com.
# # #