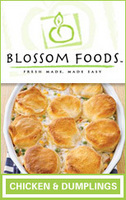 "Our primary mission is making eating more pleasurable for the patient by providing soft textured foods without compromising quality."."
San Francisco, CA (PRWEB) February 18, 2011
At this very moment 22% of adults over the age of 55 are afflicted with a swallowing impairment, or, as many as 10 million people age 65 and older are diagnosed with dysphagia or other swallowing disorder. Cancer, stroke, Parkinson's, Alzheimer's, dementia, surgeries, even medications and fatigue are some of the medical conditions contributing to chewing and swallowing difficulties, resulting in a painful, often humiliating eating experience that can lead to depression, weight loss, and more. What was once a joyful experience, eating for these patients has been relegated to baby food, "blenderized," barely recognizable mush, or even a canned concoction that closely resembles dog food. Appetizing food options for dysphagia and similar disorders were minimal, until now!
When Susan Graziano Adams – MS-CCC/SLP founded BLOSSOM FOODS she had spent more than 19 years as a Speech Pathologist evaluating and treating swallowing disorders, in acute care, rehab, and skilled nursing facilities. More often than not she would find caregivers putting all sorts of stuff in the blender, adding a bit of water and calling it a meal. Sue recalls "….9 times out of 10 the patient would ask in a frustrated, skeptical tone, 'what is this?' Usually I had no idea, because it was scooped in a ball, one color, and really looked awful. Smelling it never worked, and in fact, made it worse." There had to be a better way!
Sue's first step was to hire an experienced chef – Juerg Aeschbach – who had worked on an impressive list of other food products that included Wolfgang Puck Soups, Del Monte, Venezia Italian Foods, Richelieu Food Group, FIS- Nestle, and Albertson's to name a few. Together, Sue and Chef Aeschbach worked in the kitchen for more than a year, developing and perfecting excellent recipes that translated well to pureed and ground food options. Next on the agenda was to set up tastings with hospital and other professionals, for needed input and suggestion. These tastings led to Sutter Healthcare contracting Blossom Foods to provide ground and pureed meals at Summit Medical Center in Oakland.
Blossom Foods supplies 600 delicious pureed meals a day to Laguna Honda Hospital, Marin General, and Sutter Health's Summit/Alta Bates Campus. Sue has been overwhelmed with wonderful feedback, and requests for meals. "Our target market is health care facilities, but our primary mission is to make eating a more pleasurable experience for the patient. We are also testing direct to consumer options, and expanding beyond the Bay Area."
Blossom Foods makes its tasty pureed foods from scratch and in true artisan spirit hand packs each portion. Varieties include entrée items like Chicken n Dumplings, Pot Roast, Enchiladas, Shepherd's Pie, BBQ Beef Briskit, vegetarian offerings like Pesto Pasta, Ravioli, and an assortment of side dishes and desserts that include Bread Stuffing, Potato Casserole, Bread Pudding, Cherry Cobbler and even French Toast. Please visit our website at http://www.blossomfoods.com.
###