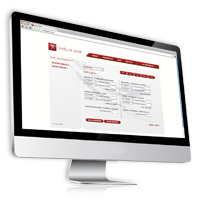 Tampa, FL (PRWEB) February 21, 2011
Hielix, a leader in creating operationally sustainable, open solutions to seamlessly exchange health information, today unveiled its Hielix EHR Roadmap, an interactive web application that will assist ambulatory physician practices by establishing tailored evaluation and selection criteria for an electronic health record (EHR) software package. Created primarily for physician practices, the healthcare IT reseller channel and their practice customers, Hielix's EHR Roadmap is a first step in helping physicians make sustainable technology choices that meet the unique needs of their individual practices, while increasing their level of care, delivering protection and financial benefits and enabling them to meet federal guidelines for adoption and implementation of healthcare IT.
Hielix's EHR Roadmap is first-of-its-kind technology that automates the first and often most confusing stage of the adoption process, practice assessment and product evaluation. More efficient and relevant assessment accelerates adoption while saving practices thousands of dollars in professional service fees and helping avoid costly mistakes often associated with misinformed software choices, misuse and de-installation issues.
"As deadlines are fast approaching for physicians to realize the highest level of federal stimulus incentives, the pace of EHR adoption remains slow and fraught with challenge and risk, as well as high rates of failure and misuse," notes Patti Dodgen, CEO of Hielix. "Proper assessment and evaluation is the critical step towards solving the EHR failure crisis and speeding adoption. Hielix's EHR Roadmap is the first true solution to help physicians gain the critical knowledge and confidence necessary to ask the right questions and make an informed decision when it comes to finding an EHR vendor best-suited for their practice. There is no other solution available today with the scale to meet the demand for relevant EHR selection and the ability to address the unique needs of individual practices."
The unique intelligence embedded within the Hielix EHR Roadmap application was derived from interactions with more than 10,000 physicians, in addition to Hielix's work with ambulatory practices on EHR adoption, developing seamless exchanges of healthcare data and achieving Meaningful Use.
"After investing in an initial EHR package that failed to meet our needs, we turned to Hielix's EHR Roadmap for a custom assessment of our practice and to help support our decisions before seeking a replacement option," said Sheila Interrante, Practice Manager for Lake Park Internal Medicine in Tampa, FL. "Hielix's assessment reinforced the need for a system with a robust lab interface and helped narrow the list of EHR options available to us. We're now more prepared to undertake this process again and confident it will be successful."
With an understanding of the distinct characteristics of an individual physician practice and their impact on the choice of EHR, the application walks the user through a series of questions to help provide an assessment across a broad range of considerations such as practice size, specialty and sub-specialty; unique concerns about adoption of healthcare IT within the practice; and an understanding for how the workload of a practice (tests, labs, insurance providers, etc.) affects the selection of an EHR. From there, the product delivers the EHR Roadmap, a strategic report detailing the specific recommendations a practice will need to consider when going through the evaluation and selection process. All recommendations are tailored to the specific characteristics of each practice, including specialty, level of technology adoption, goals for adoption, practice volume, etc. In addition, the EHR Roadmap provides a breakdown of 2011 certified EHR products and the prominent features that map to the needs of the individual practice. Armed with this information, practices are well equipped to confidently engage EHR vendors on their own or through a third party or trusted partner.
Physicians and other healthcare providers can begin using Hielix EHR Roadmap for a one-time fee of $595. The application can be accessed at http://www.HielixEHR.com.
About Hielix
Hielix creates operationally sustainable, open solutions for seamlessly exchanging healthcare information. Hielix works with healthcare providers, including physician practices, hospitals and regional/state healthcare organizations to seamlessly integrate health IT (HIT) solutions with minimal disruptions to operational and clinical workflows. Services include HIT readiness planning, meaningful use planning and reporting, EHR vendor selection, implementation and more. To learn more about Hielix visit http://www.Hielix.com.
###