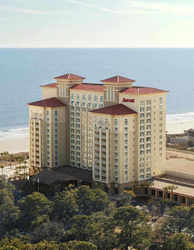 According to Cindy Hull, Director of Sales and Marketing, "Myrtle Beach Marriott is happy to be part of the power of social media through Myrtle-Beach.com!"
Myrtle Beach, SC (PRWEB) February 18, 2011
Marriott hotels are known for their excellence.Myrtle Beach Marriott Resort & Spa is no different. When a guest enters the drive, a valet is there to immediately take care of their vehicle. The front desk staff is attentive and more than willing to go the extra mile. Just walking through the lobby, tourists quickly realize this isn't just another Myrtle Beach Hotel. The classic elegance of the décor exemplifies the luxury found at this oceanfront resort. Family vacations, conferences, golf vacations and honeymoons are among the top reasons to visit this four star resort. From the breathtaking views of the ocean to the scrumptious meals offered at Ocean's at 82nd to the relaxing atmosphere and utter delight of the spa. Myrtle Beach Marriott Resort & Spa at Grand Dunes provides the ultimate in Myrtle Beach vacations.
This week The Myrtle Beach Marriott Resort & Spa has partnered with Myrtle Beach on its Myrtle Beach Facebook page and the Myrtle Beach city social website. This powerful new technology allows Myrtle Beach Marriott Resort & Spa to interact with a fan base of over 280,000 growing tourists daily. With the new city social, Myrtle Beach Marriott Resort & Spa customers can leave comments, ask questions, book reservations, look for jobs and interact with other tourists all in one place using their Facebook log in. By interacting directly with visitors and locals on the Myrtle Beach City Social website Myrtle Marriott Beach Resort & Spa will start building a strong personal relationship with individuals, creating strong customer loyalty in future years as these guests book their next vacation. The Myrtle Beach City Social is actually an extension of Facebook and is the very first interactive news, features, and display site of its kind. According to Cindy Hull, Director of Sales and Marketing, "Myrtle Beach Marriott is happy to be part of the power of social media through Myrtle-Beach.com!"
Facebook integration into the City Social site is designed to bring tourists, locals, and area merchants together. This new age of technology helps match perfect fit businesses to perfect fit tourists. "Combining the ingenuity of Facebook with a city wide social network such as Myrtle-Beach.com is certainly a perfect fit concept for a luxury oceanfront resort like Myrtle Beach Marriott Resort & Spa," says Britt Anderson El-Kheddiwi, communications director of the Myrtle Beach Facebook page. "Myrtle Beach Marriott Resort & Spa at Grand Dunes has strong brand loyalty."
Myrtle-Beach.com welcomes Myrtle Beach Marriott Resort & Spa at Grand Dunes to their ever growing network of quality hotels. As social networking integration brings down the barriers between clients and businesses, interaction is no longer cold and impersonal. The personal relationships we build with each other, businesses and our community has made a giant leap forward with Social Networking. While Myrtle Beach remains the number two family destination in America, social networking is becoming a major new development in how people are making this vacation decision.
###