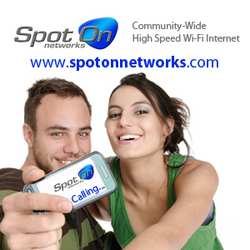 Recent interviews by Fierce Broadband Wireless in which Cisco representatives pointed to a 'peaceful co-existence' between Wi-Fi and 4G, and LR Mobile News articles indicating the need for carrier class Wi-Fi services to provide a consistent data off load
New Haven, CT (PRWEB) February 18, 2011
Spot On Networks, LLC ("Spot On") announced today support for all IEEE802.11g and IEEE802.11n equipped Smartphones and Tablets using its proprietary platforms for service provision, monitoring and control. Any Wi-Fi equipped Smartphone user is able to use Spot On's networks for data services in an unlimited amount included in the monthly subscription. T-Mobile subscribers are also able to automatically use voice services as well as data services on Spot On's networks with T-Mobile's UMA services.
"With the billions of devices projected to be connected via mobile broadband, and a 26 times growth in data from 2010 to 2015 according to Cisco's Visual Networking Index Global Mobile Data Traffic Forecast, we have been advocating the use of Wi-Fi to offload Smartphone data usage for some time. The spate of announcements from the Mobile World Conference in Barcelona this week, is indicative of the change in view by many of the world's largest mobile operators, that Wi-Fi is significant for the boosting of capacity and coverage in mobile broadband networks", said Dick Sherwin, CEO of Spot On.
He went on to say "Recent interviews by Fierce Broadband Wireless in which Cisco representatives pointed to a "peaceful co-existence" between Wi-Fi and 4G, and LR Mobile News articles indicating the need for carrier class Wi-Fi services to provide a consistent data off load experience, are examples of the dramatic change in viewpoints".
Spot On's use of the Wi-Fi frequency bands provide for over 300 Mhz of capacity in each building, compared to under 100 Mhz utilized by a mobile operator for an entire city, increasing the data capability that Spot On offers to complement the mobile operator. In addition to capacity, Wi-Fi networks are generally constructed inside a building instead of from the outside, meaning that signal strength as well as capacity is improved dramatically with a Wi-Fi network in a multifamily residential or multitenant commercial building".
Because Wi-Fi networks operate on unlicensed frequencies, Spot On built Operational Support Systems that offer carrier grade quality services that are also secure and CALEA compliant. A comprehensive authentication process is automatically included with Spot On's services.
A subscriber using Spot On's services is able, on a single subscription, to utilize a computer such as a laptop, a gaming device or video streaming device like a Wii or Roku, and a Smartphone with unlimited data capacity for under $30 per month and have service throughout the residential or commercial building complex.
About Spot On Networks:
Spot On Networks, LLC is the largest provider of carrier class, high speed wireless internet access services to the U. S. multifamily residential community, supporting laptops, Smartphones, gaming devices as well as M2M systems for energy management, security and health care. For more information visit http://www.spotonnetworks.com
###