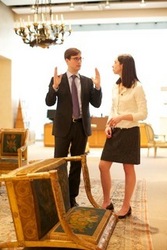 Sotheby's Institute provides unparalleled access inside the international art market. With classes online students can experience Sotheby's Institute from anywhere.
New York, NY (PRWEB) February 17, 2011
Sotheby's Institute of Art is pleased to announce the launch of an innovative new learning environment – on the Internet – that features a series of newly-designed courses to meet the needs and interests of art-world professionals, students and the interested public.
Using state-of-the-art online learning technology, these classes (which range in length from two to eight weeks) begin on March 28th and cover topics ranging from an inside look at the art markets to a study of key milestones in the history of art.
Created by Sotheby's Institute's faculty of art market specialists and distinguished scholars in London and New York, and drawing on the Institute's 40-year history of providing a unique and up-to-date curriculum to students of art history and the business of art, this new online program makes courses available to students anywhere, any time.
New Online Courses offered from March are:

Art as an Alternative Investment: Making Intelligent, Data-Driven Decisions
But What's It Worth? Understanding Trends in the Art Market
Art Across Borders: Understanding International Law in Art Business
Writing for the Art World: How to Make Your Voice Matter
How to Navigate New Works and New Markets: Intro to Contemporary Art
Inside the New York Art World: How Art Gets Made, Priced and Sold
Intro to Art History: The Movements that Mattered
For further press information, please contact:
UK: Claire Brown at C.Brown(at)sothebysinstitute(dot)com
US: Jan Rothschild at JRothschild(at)cig(dot)com
Tel. UK: +44 (0) 20 7462 3245
Tel. US: +1 202 294 3046
###