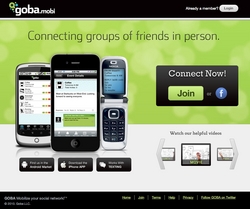 We are very excited to see how people will be using Goba.mobi in their daily lives.
Nashville, Tenn. (PRWEB) February 17, 2011
Goba.mobi (Goba), a social media start-up, officially launches its Version 1 public release. Goba, which stands for "Get Out Be Active," is a mobile-based application and website that helps people connect in person around shared interests. Goba leverages existing technologies (iPhone, Android, Web, Mobile Web and Texting) to make it quick and simple to organize and manage events with friends.
Goba launches Version 1 with a new layout and enhanced features. These features meet the needs of both the casual user and the large corporation searching for an effective way to reach an audience via text messaging. New features include:

Message posting to both event and group pages
The option for members to make their events open to the public
The ability to quickly add friends from member's phone contact list if they are using the Goba iPhone or Android App
The ability to text and make calls to event invitees all from within the App
Special opt-in/out features that control how people receive messages from particular events, groups and people
Corporate accounts now have powerful "Text to Join" features, providing a simple way to capture, engage and mobilize an audience by simply texting a keyword to the Goba short-code phone number. Once people text the keyword, the organization can effectively present opportunities to their target audience through mobile phones.
"We are very excited about this public release," says Stuart Young, Goba co-founder and CTO. "Getting feedback from the public will help us mold future features around how people are using Goba.mobi in their daily lives."
About Goba
Launched in May 2010 with funding led by TNInvestco TriStar Technology Fund, Goba is headquartered in Nashville, Tennessee. Goba hopes to take advantage of the area's breadth of creative and technological talent to launch the leading interest-based social networking platform.
Media Contact:
Jessica(at)goba(dot)mobi
###