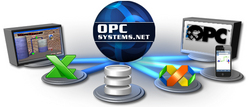 Evergreen, CO, USA (PRWEB) February 22, 2011
Today Open Automation Software announced the release of OPC Systems.NET Enterprise Version 4 with enhanced OPC Connectivity, and security, designed to provide full user friendly support for SCADA systems and Human Machine Interfaces (HMIs). The new release of the Open Automation Software's platform provides full support for 32 and 64 bit Windows operating systems exponentially expanding the amount of real-time data supported from each server to 1,000,000 tags.
The OPC Systems.NET Enterprise solution is specifically designed with the needs of the End-User in mind to integrate business application systems with plant floor production data. The GUI Interface provides a user friendly environment that enables End-Users with the ability to set and control the range of tags from 100 to 1,000,000 per server. Continuing a tradition of providing flexible and open solutions, Open Automation Software incorporated a distributed multi-server design in the OPC Systems.Net Enterprise solution that provides full functionality and support for Microsoft Windows Operating Systems such as: Windows 2000, XP, Vista, Server 2003-2008, and Windows 7 (32 Bit and 64 Bit).
Unlike other HMI SCADA software, OPC Systems.NET Enterprise implements a Service Oriented Architecture (SOA) to deploy scalable solutions which leverage the power of the network communications functions built into the Microsoft .NET Framework. This unique SOA design also enables the platform be the first true "Smart Client" SCADA solution on the market today. End-Users benefit from having an HMI, trending package, and alarming package all in one easily deployable bundle. This combination of functionality eliminates the additional costs of add-on software as data transfer and manipulation needs grow. Everything that an end-user or OEM needs is already included within the OPC Systems.NET Enterprise software package providing the ability to be an agile and scalable solution that enables system growth.
"The problem that many plants face today is turning data into useful information quickly, at a reasonable cost, and on mobile devices. By getting the important real-time information to the right individuals each critical decision can be made with confidence by knowing the current real conditions of any system in your plant or facility. By choosing a flexible, and scalable, product like OPC Systems.NET Enterprise End-Users can easily implement and deploy solutions quickly with little or no programming experience." said Ken Eldridge, President of Open Automation Software.
OPC Systems.NET Enterprise is a completely secure solution offering the following features:

The ability to archive data and alarms for easy queries from third party reporting and database consumers.
Easy and secure access from the web, WinForms, WPF, or Windows Service applications.
Easily configurable systems based on end-user business data requirements such as: data logging, alarm logging, alarm notification, and recipe management.
The elimination of custom code or specialized scripting to share data with third party applications.
Secure communications to external databases, management applications, remote locations, and mobile devices via a built-in 128 bit TCP/IP security feature.
Robust and open data exchange between: OPC Clients and Servers, SQL Server, Oracle, MySQL, Microsoft Access, Microsoft Excel, and .NET applications.
More information about the Enterprise version of OPC Systems.NET is available at: http://www.opcenterprise.com
About Open Automation Software:
Open Automation Software was formed in 1993 with the vision of empowering end-users and OEMs with the freedom to create the applications they needed to truly build "best of breed" systems. Open Automation Software achieved this by providing the tools to quickly and easily develop SCADA products using Microsoft Visual Studio. The culmination of this vision was the creation of OPC Systems.NET. OPC Systems.NET is the flagship product for Open Automation Software and leverages OPC standards from the OPC Foundation to enable secure communications and support for Smart Clients, Web-based Clients and Server, Mobile Clients, and Mobile Devices.
Follow Open Automation Software on Twitter at: http://www.twitter.com/opcsoftware
###