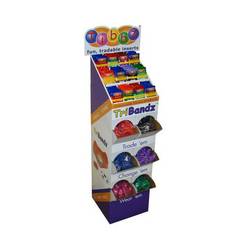 We are very pleased to support our local 7-11 store and appreciative of their willingness to work with us while offering our product right here in our backyard
Cockeysville, MD (PRWEB) February 22, 2011
TriBandz LLC, the creators of the next silly bands, is proud to announce a partnership with a 7-Eleven convenience store located in Hunt Valley, MD. Starting in February 2011, TriBandz™ – a very intriguing customizable wristband for children, teens and even adults with interchangeable accessories – will be available for purchase at the 7-Eleven located at 11211 York Road in Hunt Valley, MD. The owners of TriBandz are particularly happy to have the product debut locally, as TriBandz is located about in the same area.
"We are very pleased to support our local 7-11 store and appreciative of their willingness to work with us while offering our product right here in our backyard," says Ryan Rush CEO of TriBandz, LLC. For inquiries to the Hunt Valley 7-11 store, please contact them at 410-527-1210.
TriBandz LLC launched in October of last year and has worked with charity organizations, specialty toy stores and direct e-commerce from the company's website. TriBandz are a 100% silicone wristband available in six bright, vibrant band colors and three sizes: Youth, Teen and Adult. They feature easy-to-insert plastic parts called Tibbz™ which are imprinted with a wide-variety of unique images and come in surprise packs. The initial launch has over 36 categories of Tibbz™ with nearly 1000 different images.
TriBandz's new wristbands are similar to silly bands and are currently available for purchase online (http://www.TriBandz.com), Franklin's Toy Store in Severna Park, MD, and now Hunt Valley 7-11 convenience store. For business inquires regarding carrying TriBandz and Tibbz in your place of business, please contact Ryan Rush at 410-905-3059.
###