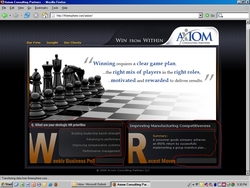 As well as being a trusted advisor to leading companies and government agencies, Marc is renowned across Europe in the areas of strategic talent management, leadership development, and high-potentials
Brussels, Belgium (PRWEB) February 17, 2011
Axiom Consulting Partners LLC announced today the opening of its second European location in Brussels, Belgium.
Marc Timmerman has been named Partner in charge of the Brussels office, and will be responsible for client engagements and business development for Axiom across the EU. Marc brings extensive insight and experience across many of Axiom's core service lines, as well as a lengthy track-record of building and leading large professional services firms. He will be a key member of Axiom's European team.
"I am truly delighted that Marc is joining our European team, and I'm looking forward to the tremendous experience he will bring to both Axiom and our clients", said Paul Dinan, Partner at Axiom's Dublin office. "As well as being a trusted advisor to leading companies and government agencies, Marc is renowned across Europe in the areas of strategic talent management, leadership development, and high-potentials".
About Axiom
Axiom Consulting Partners is a management consulting firm that helps clients achieve sustainable, profitable growth by working with leaders to align business strategy, organisation and talent to improve execution. We take a practical, fact-based approach to analysing and solving complex business issues. We focus on removing the disconnects that commonly exist between the boardroom, middle management and front line employees, resulting in dramatic improvements in financial performance. Our partners have an average of 20 years experience across a variety of industries and have served clients in North America, Europe and Asia.
Media Contact:
John Whelan
Director, Market Development
161 N. Clark Street, Suite 4700
Chicago, IL 60601
(312) 523-2090
http://www.axiomcp.com
###