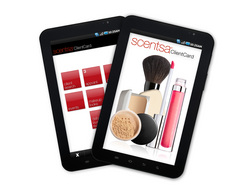 "The Scentsa Client Card is a breakthrough for both retailers and brand management on the retail floor," says Jan Moran, Co-CEO of Crescent House Publishing Inc. "Our one-stop turn-key solutions allow retailers and brands to enhance clienteling service."
Carlsbad, CA (PRWEB) February 17, 2011
The award-winning technology team that successfully created and supports the touch-screen Scentsa® Fragrance Finder in Sephora stores in the US and Canada introduces a digital Client Card for the beauty industry. The Scentsa Client Card™ operates on a sleek seven-inch tablet weighing just thirteen ounces. It can also operate on a variety of other platforms, including iPads and other devices. Paper Client Cards for cosmetic brands are standard fixtures on all beauty counters, but have limitations. The handheld Client Card assists the beauty advisor with features such as email, scheduling, replenishments and management reports. The digital Client Card enhances the customer experience and the beauty advisor's capabilities by acting as a portable Customer Relationship Management (CRM) tool. The Client Card is also available for use in other retail sectors, including jewelry, watches, accessories, and other areas where enhanced customer service is desired.
The Scentsa Client Card is the perfect digital personal assistant for beauty advisors and a learning tool for the client. The Client Card has many clienteling, sales and marketing features, including email to send client information, and calendars for special events and replenishments. It also supports the advisor's daily tasks with features such as client information, appointment and event keeper, and a daily business record to track products sold. The wireless device includes personalized features to enhance the client's in-store experience, including face chart options, which track client purchases and sampling, makeup looks, and product information.
"The Scentsa Client Card is a breakthrough for both retailers and brand management on the retail floor," says Jan Moran, Co-CEO of Crescent House Publishing Inc. "Our one-stop, turn-key solutions also allow brands to manage their business across retail chains and enhance client service through the use of the latest technology."
Scentsa is comprised of a team of retail specialists, software developers, and beauty experts who understand the in-store customer experience and the requirements of the sales advisor. Every feature is carefully planned and created with the needs of the beauty industry and cosmetic brands in mind. The digital Client Card brings a higher level of quality to the beauty counter and helps increase retail sales and client conversion and retention.
For more information, visit http://www.scentsa.com.
For further information, please contact:
Caitlin Macbeth, Scentsa (760) 431-8800
2218 Faraday Ave, Ste 120 pr1(at)scentsa(dot)com
Carlsbad, CA 92008
About Crescent House Publishing
Scentsa is an innovation of Crescent House Publishing Inc., an award-winning multimedia technology company serving the global retail industry. Founded in 1992, Crescent House Publishing is a media company that creates marketing and information software solutions for retailers and vendors to reinforce brand awareness, enhance sales training, and create in-store excitement with touch-screen, digital media, mobile, web, and in-store technologies. Scentsa has been recognized with the following awards: a Cisco Growing with Technology Awards Honorable Mention for Operational Excellence, a Stevie Award for Technological Innovator of the Year, and a FiFi Award for Technological Breakthrough. The Company is a Huntington Capital portfolio company.
# # #