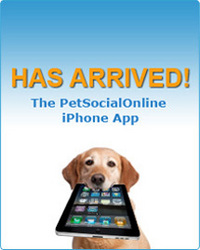 Building A Social and Healthy Pet Community
San Diego, CA (PRWEB) February 23, 2011
Petsocialonline.com has just released their new iphone application which offers pet social networking by creating an online pet profile. A nationwide service finder directory of veterinarians, vet clinics, groomers, pet sitters, trainers, kennels and humane societies is also available within this iphone application. This is an important tool to have when traveling! Our service finder gives local and nationwide listing information for all pet and veterinary services including humane societies.
Want to show friends photos of "Fido" or "Fifi" on the go? Upload new photos onto a pet profile's wall through this iphone application. Invite facebook friends by using the facebook login feature. Video uploads to a pet's profile are available as well to show friends and family the latest antics "Fido" or "Fifi" is up too. Pet social networking has finally arrived to the iphone!
Need some pet advice or have some pet health questions? Visit petsocialonline.com interactive pet diagnosis finder or review the health and lifestyle articles available on the website. Each article within the interactive pet diagnosis finder explains causes, diagnosis and treatments for veterinary diseases or ailments for all different kinds of pets. Petsocialonline.com has information for all types of pets including dogs, cats, birds, reptiles, small animals, rabbits and fish. Preventative pet medicine is the key to keeping a pet healthy and lowering veterinary costs. Petsocialonline.com's health and lifestyle articles have information on diet, vaccines, behavioral problem solvers and more! If we haven't covered a question in one of our articles, just ask us! Our experts all have veterinary training to answer any questions through our ask advice webpage.
Check out our consumer reports page for the best pet products available today. Coupons for popular pet websites and products are available too. Our unbiased recommendations are compiled through consumer product reviews and in-depth product research by our pet experts. We do the research to help decide the best pet products!
###