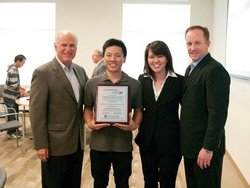 ...results of the contest we just finished at CSUF are some of the best we've had.
Fullerton, CA (PRWEB) February 17, 2011
California State University – Fullerton (CSUF) students who entered a website contest sponsored by Crexendo got a crash course in e-commerce. Crexendo is a Web marketing company based in Tempe, Arizona. Its University Program (UP) holds website contests at various universities. These contests give students—some of whom have very little online experience—exposure to website design, building, and marketing using the Crexendo site-building and management platform. Some of the students end up with working businesses at the end of the contest.
Crexendo President Clint Sanderson said, "The results of the contest we just finished at CSUF are some of the best we've had. It's remarkable that students, many with no web building skills who were carrying a full-time class load, took the time and effort necessary to develop what in some cases were extraordinary websites. It's a learning experience not only for the students but also for Crexendo. We have learned more about the needs of our customers, and this contest will help us to continue to optimize our software."
Contest winners for 2011 are:
$7,500 First Place Prize: Katie Nguyen and Kevin Mann – http://www.PrintPressInc.com
$5,000 Second Place Prize: Lee Baker – http://www.FatherTimeAntiqueClocks.com
$2,500 Third Place Prize: Richard Tsu – http://www.VyzionPhotography.com
Six runners up won $500 each.
The real stories here are in the way the contest moved students to act on business ideas they already had in mind. One of the most interesting was first place winner Katie Nguyen. When she heard about the contest, she saw it as an opportunity to expand on a business being run by a friend of her father's. Her idea was to become a broker of used industrial printing equipment and fill a demand she saw while visiting Vietnam.
"I had a little experience with website analysis," said Katie, "but this is the first website I've actually built." She contacted a former lab partner from a bio-chem class, Kevin Mann, and asked if he was interested in working with her on the project. They now have a fully functioning e-commerce website and are in the process of closing their first transaction. They plan to translate the website to have a Vietnamese version in order to better serve that market. So far, visitors to their website have done so from 10 different countries.
Second Place winner Lee Baker used the contest to help his father's clock repair business. "We were repairing antique clocks and starting to sell them, as well, but we really needed a separate site for selling in order to capture the Web traffic we need." Though he's been building various websites for years, this experience with Crexendo exposed Lee to a different way of building and managing websites.
"You can win either by taking an extraordinary idea and doing well, or by taking an ordinary idea and doing extraordinarily well," said Crexendo CEO Steve Mihaylo at the closing ceremony. Mihaylo is a CSUF alumnus and the one who brought the Crexendo website contest to CSUF.
Contestants get six months of free web hosting for their sites and will pay $9.95 per month thereafter to keep their websites running. This is Crexendo UP's first event at CSUF, but they plan to make it an annual event.
Crexendo is a technology company that serves small- and medium-sized businesses, and specializes in Web marketing services and hosted business telephone services. The Web marketing services Crexendo provides include link-building and other SEO, paid search management, social media management, conversion rate optimization (CRO), and more.
###