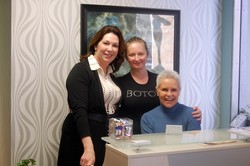 Philadelphia, PA (PRWEB) February 18, 2011
Bella Medspa, a leading provider of non-invasive cosmetic treatments in the Philadelphia Metro area, has moved into their new Rittenhouse Square office. The new location is conveniently located on the square at the base of the Dorchester building.
This is the company's fourth new full service Medspa location in the past 12 months. The new Rittenhouse location offers the services and products that Bella Medspa has come to be known and respected for, including Laser Hair Removal, Chemical Peels, DiamondTome Microdermabrasion, Botox, Juvederm, Latisse, Obagi medical grade skin care products and much more.
Over the past four years Bella Medspa Philadelphia has continued to grow despite the poor economic environment. "We are so excited about our new Rittenhouse Medspa office. The neighborhood is great, with some of the best restaurants and shops in Philadelphia. We look forward to becoming a part of the Rittenhouse community" said Beth DiBella, Owner and Director of Bella Medspa.
Bella Medspa initially started with laser hair removal and has gradually added a full line of Medspa Services in Philadelphia, PA.
Along with laser hair removal Rittenhouse services now include:
Botox and Dermal Fillers
LATISSE
Microdermabrasion
Chemical Peels
Medical Grade Skin Care Products such as Obagi
Located at the base of the Dorchester condominiums, the new Bella Medspa Rittenhouse office is tucked back off of the side walk. The store front faces the street and is directly accessible.
Bella Medspa has eleven locations in the Philadelphia area, Allentown, Bucks County, Reading, Harrisburg and Lancaster. Bella Medspa is able to offer laser hair removal treatments at affordable prices at locations convenient to the entire Philadelphia population by providing laser hair removal through 4 main locations and 7 select day spa affiliates. And with a lifetime guarantee on all packages of six treatments, clients are assured lasting results.
Bella Medspa Laser Hair Removal
Laser hair removal is the most effective hair removal option on the market it can effectively treat large areas such as arms, legs, shoulders and back. Permanent laser hair removal treatments utilize advanced laser technology to remove unwanted hair and can efficiently treat all skin types safely.
Bella Medspa uses the Lumenis LightSheer at all Philadelphia area laser hair removal locations. It is one of the best hair removal laser on the market. It is FDA approved and effective for treating all skin types. The combination of the Sapphire ChilTip and other key features allows for the safe and effective treatment of all skin types, including ethnic and tanned skin.
Bella Medspa Cosmetic Injections and Anti Aging Skin Rejuvenation
Along with laser hair removal Bella Medspa also offers a full line of non invasive anti aging skin rejuvenation services and products at their full service locations including microdermabrasion, chemical peels and Obagi Nu Derm. Full service offices can be found in Newtown, PA, Rittenhouse Square Philadelphia, Chester Springs, PA and Lancaster, PA.
About Bella Medspa
Bella Medspa operates full service Medspas at four locations as well as providing laser hair removal in seven other locations through their Spa Affiliate Program; all in South Eastern Pennsylvania. Their Spa Affiliate Program allows the company to partner with local day spas to offer the best permanent hair removal treatments available using the most advanced technology on the market. Laser hair removal eliminates unwanted hair safely, easily and conveniently; even on very large areas.
For additional information and full price list call 267-639-2091or go online to http://www.BellaMedspaOnline.com.
Contact:
Bella Medspa
226 W Rittenhouse Square Suite 101
Philadelphia, PA 19103
267-639-2091
###