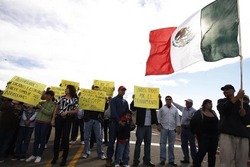 Gone unchecked, this LNG unit that is operating with compromised environmental systems could result in a natural disaster not unlike the BP disaster in the Gulf, and Mr. Sanchez Ritchie stands to inherit the bulk of this risk because he is an adjacent
San Diego, CA (PRWEB) February 28, 2011
Ensenada rancher Ramon Eugenio Sanchez Ritchie announced today his protest with the State and the Federal Congress pursuant to the improper reopening of SEMPRA Energy's Mexican LNG Unit, "Energia Costa Azul". Ensenada.
"We are protesting this improper action because Sempra Energy has not put its LNG plant up to code in order to safely operate, nonetheless they are resuming operations after they were shut down by the Ensenada Protective Services Agency and Municipal Police Forces," said C.E. Cortes, Hispanic Communications Director for Gateway Media Partners, which represents Sanchez Ritchie.
"Gone unchecked, this LNG unit that is operating with compromised environmental and safety conditions could result in a natural disaster not unlike the BP disaster in the Gulf. Mr. Sanchez Ritchie stands to inherit the bulk of this risk because he is an adjacent neighbor to the plant," Cortes continued.
Sempra Energy's "Energia Costa Azul" LNG Plant has been embroiled in controversy since it was proposed and opened. According to an investigative report by San Diego, CA KGTV News, an ABC affiliate, authorities in the U.S., including the U.S. Department of Justice, the Federal Bureau of Investigation, and the Securities Exchange Commission, have all launched parallel investigations into allegations that Sempra Energy's, Mexican LNG Unit, "Energia Costa Azul," may have engaged in criminal conduct in Mexico. See attached lawsuit and video; http://www.gatewaymediapartners.com/complaint.pdf See also; video news story of ABC affiliate KGTV CH10, at; http://www.gatewaymediapartners.com
The claims stem from a "Whistleblower" lawsuit "Case # 37-2010-00103591-CU-FR-CTL, filed in San Diego Superior Court in the County of San Diego" from a former company, Executive Rudy Michelon, and Director/Controller for Sempra Mexico. The allegations in the complaint cite corruption of public officials, bribery, illegal seizure of land, along with environmental violations. See Attached Copy of Lawsuit http://www.gatewaymediapartners.com/complaint.pdf
An investigative report by KGTV broadcast on Feb. 6, 2011 details the extent of the investigation and features Sanchez Ritchie's struggle against Sempra, which can be viewed by visiting http://www.gatewaymediapartners.com.
For updates and more detailed information please visit our website at: http://www.gatewaymediapartners.com
###