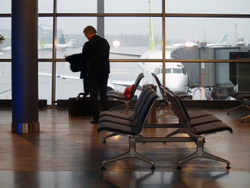 (PRWeb UK) February 18, 2011
An influx of new airlines and more internal flights has prompted Riga International Airport in Latvia to extend its baggage handling capability and award an £850,000 100% HBS contract to leading baggage systems integrator, Logan Teleflex.
The contract will see Hull-based Logan Teleflex design and project manage the delivery and implementation of the baggage handling system, including crucial level 2 and 3 x-ray screening equipment machines, prior to a go live date of March 2011. Importantly, the new system will be located in an extension to the existing terminal, thus avoiding any impact on the airport's busy day-to-day operations.
Riga is expected to handle over 4 million passengers in 2010 a near 17% rise in comparison with passenger traffic in 2009, with an additional six airlines putting on flights this year from the airport. Small wonder then that the airport was awarded the Emerging Market Airport (EMA) award in April 2010.
The Logan baggage system features a dedicated 100% HBS screening line to enable it to cope with the increased number of bags which must be screened to EU standard before being loaded onto the scheduled connecting flight.
Failed level 2 bags are transferred to the manual L3 PX107 Level 3 x-ray machine for further examination and, once cleared, routed to the make-up carousel or removed from the baggage system if still considered suspect.
"This is an important win for the Logan Teleflex, given Riga International Airport's increasing importance as a gateway throughout Europe and between Russian, the CIS countries and the Far East. Logan Teleflex is responsible for overall system design, which goes hand-in-hand with the manufacture, supply and installation of the system components," says Ronnie Romano, Business Development Manager, Logan Teleflex.
Logan Teleflex has been involved in selling baggage handling systems to CIS countries and Russia for a number of years and has worked closely with its partner, Gate Technologies, in that region. This has played an important part in Logan's ongoing success in the region.
Earlier this year, Logan Teleflex announced that it was working on an additional Baggage Handling Systems (BHS) for the new Terminal 2A facility at Sheremetyevo International Airport in Russia. The Terminal 2A contract will give the airport a high baggage throughput of approximately 3,000 bags per hour – has built-in redundancy and complies with the latest international security standards.
###