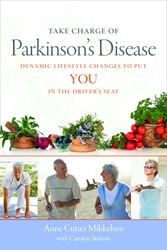 For anyone affected by Parkinson's disease, and everyone interested in brain healthy nutrition. "I WISH I HAD THIS BOOK WHEN I WAS DIAGNOSED." Peter Dunlap-Shohl-- Parkinson's disease support group leader & blogger
Reisterstown, MD (PRWEB) February 19, 2011
"Feed Your Head" -- Who knew these Sixties' song lyrics would still resonate today, albeit with a decidedly different message: brain healthy nutrition.
Not only among those who came of age in the Sixties – now in or approaching their own 60s today -- there is widespread keen interest in how to protect and enhance neurologic function, particularly as we age.
The one million people living with Parkinson's disease in the U.S., their carepartners and families, and the sixty thousand new diagnoses each year, are no different. There is evidence based support that not only re-focused nutrition, but exercise, and healthy emotional coping strategies may play roles in maintaining optimal health while living with PD.
An unusual new how-to book, "Take Charge of Parkinson's Disease: Dynamic Lifestyle Changes to Put You in the Driver's Seat," presents practical ways to boost physical and emotional resilience through brain healthy nutrition, exercise, and enlightened caregiving. For starters, more than 80 original recipes and menus are presented by author Anne Cutter Mikkelsen that combine the widest variety of anti-oxidant, anti-inflammatory, nutrient-rich ingredients, and culinary herbs and spices known to favorably impact the brain. Classically trained in French cooking, Anne is a chef, a Master Gardener, a writer -- and a Parkinson's carepartner.
Powerfully, Anne tells the personal story of how she and her husband Mike – an award-winning potter and sculptor – learned to live vibrantly since his 1993 PD diagnosis . Passionate advocates, the couple wishes to foreshorten the learning curve for others facing down a Parkinson's disease diagnosis. According to Anne, food has been her most effective tool in her quest to create an atmosphere of optimism and anticipation for "whatever is coming next" through the stages of Mike's PD.
Loss of control underscores Parkinson's disease and other movement and neurodegenerative disorders like multiple sclerosis. "Take Charge" espouses making the most of what we can control: what we eat, how we choose to think about our circumstances, and what we bring to our relationships.
Mikkelsen, who studied cooking in Provence, France at L'Ecole des Trois Gourmandes with Simone Beck ("Simca"), co-author of Mastering the Art of French Cooking I and II, is also a former restaurateur and TV cooking show personality. In her "Take Charge" recipes, Anne uses familiar ingredients and introduces new key ingredients – among them, "curcumin," a component in the spice "turmeric," heavily researched for potential neuroprotective properties, and the piney-scented herb, rosemary, shown to improve circulation and stimulate the brain.
For the family chef and "foodies" alike, Anne's recipes incorporate a wide variety of nutrient-dense naturally low-calorie foods, including whole grains, dark rich fruits and vegetables, beans, nuts, and occasional animal-based foods like Pacific Salmon and eggs from free-range hens. Even eating occasions like midnight snacking and how to stock a brain healthy pantry are provided for.
Practical information about Parkinson's disease is supplied by contributing writer, Carolyn Stinson, on symptoms, difficulties with diagnosis, risk factors, loss and depression, denial, stress, and current research at the Cleveland Clinic on potential neuroprotective and symptom management benefits afforded by certain types of exercise.
As for the metaphor in the book's title -- "putting you in the driver's seat"-- PD will always be there, along for the ride. However, Anne and Mike have mastered living a good life with Parkinson's disease as a backseat passenger.
Anne and Mike hail from Minnesota and now live in the glorious Pacific Northwest, in Bellingham, Washington. Anne is also the author of "From Both Sides of the River: A Family Portrait." Carolyn Stinson is a marketing and public relations specialist and a consumer health care writer.
Read praise and reviews and excerpts.
"Take Charge of Parkinson's Disease: Dynamic Lifestye Changes to Put You in the Driver's Seat"
ISBN 13: 978-0-9823219-3-5
A DiaMedica Publishing Guide to Optimum Wellness
(January 2011)
Available from Amazon.com and in Bookstores
"Feed your head."
Lyrics, "White Rabbit" (1967)
Jefferson Airplane
###