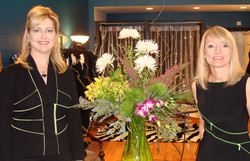 "I really adore the Camille pieces; so unique, a little bit tribal looking and very exotic. And, very fun! Thank you for being the best Stylists and knowing what is in fashion. P.S. Thanks for taking such great care of me!" - Nancy
Bellingham, Wash. (PRWEB) February 17, 2011
As Bellingham, Wash.'s Diva Boutique is celebrating its 11th Anniversary, the upscale specialty-clothing store is continuing to draw customers locally, in the state, and throughout the world.
Diva's premiere label is Joseph Ribkoff. Since 1957, the Canada-based designer has been attracting increasing attention with his stunning, innovative designs. Miss America, Teresa Scanlan, wears Ribkoff creations to all of her events, which shows their versatility for women of all age groups.
To mark its 11th Anniversary, Diva will be awarding $500 worth of merchandise to the winners of its Facebook Sweetheart Contest. The deadline for entering is Feb. 28.
Diva also will offer its Seventh Annual Joseph Ribkoff Trunk Show from noon to 7 p.m. March 17 at the store's new location in downtown Bellingham, 1323 Cornwall Ave.
Ribkoff fashion stylists Shawn Costello and Shelley Aragon will show the newest and brightest spring fashions from Ribkoff. Special sales will be offered throughout the event along with champagne and chocolates.
"Joseph Ribkoff's spring line is the most popular ever," said Suzi Coombs, owner of Diva. "Our customers are ready for a change of seasons, and we can help them shake off the old and bring in the new."
"Dresses are the customers' favorites for spring," Coombs said. "The silhouettes are feminine, with bold patterns and beautiful draping to complement all figure types."
Diva's local customers are fond of the Toni Two-Tone style, a dress with a flattering black base and taupe, ruched front paneling and zipper adornment. The European customers are excited about the Daphne Dress, a stretch sateen sheath dress with an updated, leopard and bold floral print. They're also ordering the Felicity Dress, which is a comfortable knit jersey body with an exciting peacock feather pattern. They love the bright colors that pop on these styles.
For Diva's Australian customers, tunic tops are popular, especially the Tessa Tunic in a versatile black and white textured fabric with button details, which offers style and comfort.
Also in demand for the upcoming season is the Naomi Tunic, a perfect warm-weather style with a color block pattern and matching leggings.
###