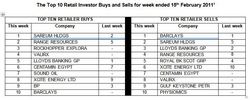 London, UK (PRWeb UK) February 18, 2011
Darren Hepworth, Trading and Customer Services Director, TD Waterhouse comments: "TD customers appeared to be looking to new investment opportunities in the week ending February 15. Buys increased by nearly 70% with drug discovery and pharmaceutical companies lifting trades, accounting for over one third of the top ten buys overall. However, it was banking stocks that steadied the FTSE 100 as it closed at 6037.08 on Tuesday after briefly dipping below the 6000 mark at the end of last week.
"Shares in Lloyds Banking Group, Royal Bank of Scotland Group and Barclays were up on February 15, helping to cushion earlier declines on the FTSE 100. Barclays entered the buys table in 10th place and accounted for one fifth of the sells after it reported its full year pre-tax profits had exceeded analysts' predictions by increasing 32% to over £6bn.
"Sareum Holdings which appeared as a top ten buy for the first time, saw its share price climb rapidly to 478p on February 9 following good news from a study surrounding its Aurora+FLT3 Kinase leukaemia treatment programme. However, the stock fell back to 123p at the close of trading on Tuesday, with the drug discovery specialist also occupying second place in the sells. Sareum's positive news also paved the way for research partner Physiomics' 10th place appearance in the sells as its share price similarly peaked last Friday at 108p, before also dropping back and closing at 55p on February 15.
"At second in the buys and fourth in the sells, Range Resources Limited announced this week that it has started a fracture stimulation programme that it expects to increase cash flow from its North Chapman Ranch Project in Texas. Meanwhile, oil explorer Rockhopper was lifted back into the buys table at third after it became a target for bargain-hunting investors this week. Its share price fell sharply on February 11 as the company announced complicated results from the second of its wells to target the Sea Lion prospect in the North Falkland basin.
"Conversely ValiRx a new entry to our tables this week, saw its share price head skywards, peaking at 228p on February 15 (the share was worth just 47p at close of February 11). The biopharmaceutical company was buoyed by the unveiling of SELFCheck, its over-the-counter screening product for chlamydia and was fourth in the buys and eighth in the sells as a result."
The value of your investments can go down as well as up. You may not get back all the funds that you invest.
TD Waterhouse is the UK's leading execution only broker with trading rates starting from £8.95. Only 15 or more eligible trades per quarter are required to qualify for TD Waterhouse's frequent trader rates.
For more information customers can log on to http://www.tdwaterhouse.co.uk.
About TD Waterhouse:
TD Waterhouse is the UK's leading execution-only broker†, servicing approx 200,000 UK customers with over £3.77 billion in customer assets (stocks and cash) under management. It is a subsidiary in the TD Bank Group, the 6th largest bank in North America by branches. TDBG has 74,000 employees in offices around the world, serving 19 million customers with client assets of CDN$620 billion (as at 31, October 2010). † Source: Compeer based on daily average retail trades for TD Waterhouse including its white label partners, as at Q3 2010.
TD Waterhouse provides UK investors with simple, fast and easy share dealing services - combined with high quality news and information from leading providers including AFX and Morningstar (Hemscott) - to both active traders and longer-term investors. These include UK and international equity trading, Individual Savings Accounts (ISAs), Regular investment accounts, Self Invested Personal Pensions (SIPPs) and Contracts for Difference (CFDs).
TD Waterhouse is authorised and regulated by the Financial Services Authority, 25 The North Colonnade, Canary Wharf, London E14 5HS (FSA registered number 141282), member of the London Stock Exchange and the PLUS market.
# # #