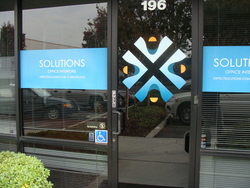 We also now have a means of showcasing our Green office furniture recycling solutions that can save up to 75% of the cost to purchase new furniture,"
San Jose, CA (PRWEB) February 18, 2011
"Many of our very well-known commercial customers are already aware of our in-house design, installation, and support capabilities. But we had sought a new platform that would make it much easier for these same clients and prospects to quickly discover the breadth of solutions that we provide to keep an office environment productive," stated Sarah Laffoday, Business Development Director with Solutions Office Interiors.
"In the age that we live in, people are busy and simply don't have as much time to spend on the phone or in-person. Our new website, http://www.expectsolutions.com, educates our customers on how easy the buying, design, and installation process can be with a company that does not have to outsource these functions. We also now have a means of showcasing our Green office furniture recycling solutions that can save up to 75% of the cost to purchase new furniture," Laffoday said.
Laffoday also noted that some furniture dealerships (http://www.expectsolutions.com/services/dealership_support) in other parts of the country charged with nationwide support for major corporations do not have the on-site regional presence to serve their clients adequately and quickly. "Providing western regional dealership support services gives large furniture dealerships in other parts of the country the ability to serve their corporate clients with a quick response time utilizing a company like ours…one they can fully trust. Our new website expands on this important part of our service offerings."
About Solutions Office Interiors, Inc.
Founded in the heart of the San Francisco Bay Area's technology sector in just a single storage shed in 2003, Solutions Office Interiors has rapidly grown to a regional one-stop office interior solutions provider. The company focuses its in-house services on helping commercial clients define, design, implement, and install the perfect office environment to enhance business flow and a client's unique culture. The experienced office furniture experts at Solutions Office Interiors handle all aspects of interior office projects ranging from design, installation, refurbishing, and support to project management. Offices now include a fully equipped 35,000 square foot warehouse with 25,000 square feet of additional storage space in Fremont, CA.
###