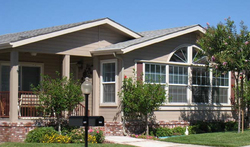 "Our focus on innovation, energy efficient living, affordable and aesthetically superb design matches what consumers want now..." - Luca Brammer
Loma Linda, CA (PRWEB) February 19, 2011
As the nationwide housing market slowly rebounds, consumers are now, more than ever, acutely aware that this is a buyers market. The demand for energy efficient living is on the rise especially among those considering manufactured and prefabricated homes. The new Hallmark-Southwest website is dedicated to helping consumers not only find the highest quality manufactured and prefabricated homes on the market, but more so, dedicated to helping all consumers interested in green living find answers to their questions. The new website, dedication to writing timely and relevant news regarding green living and the manufactured home guide represent a completely new marketing direction. In the past, Hallmark-Southwest Corporation has found success through word of mouth advertisement and referrals alone.
In 2011, Hallmark-Southwest Corporation will launch a new line of prefabricated homes. The new prefabricated home line incorporates zero-net-energy philosophy in to its design. The new website will be just one of many outlets that Hallmark-Southwest will use to bring the new line of prefabricated homes to market. A free guide to manufactured home planning and installation, slated for release on the website in February, will also provide a wealth of free information to consumers.
"We are extremely excited about our new website and the direction of our company," said Luca Brammer, Director of Business Development for Hallmark-Southwest Corporation. "I have a tremendous amount of faith in our plans for 2011 and beyond. Our focus on innovation, energy efficient living, affordable and aesthetically superb design matches what consumers want now and will continue to want in the future as well."
About Hallmark-Southwest Corporation
Hallmark-Southwest Corporation is an employee owned company started in 1976 by craftsmen in the home building industry. Hallmark-Southwest offers a wide range of manufactured home models built with both quality of construction and energy efficiency in mind. The Hallmark-Southwest Corporation lives by the motto "Craftsmanship Lives."
For more information, Hallmark-Southwest Corporation can be reached at +1-909-796-2561 and at http://www.hallmarksouthwest.com.
# # #